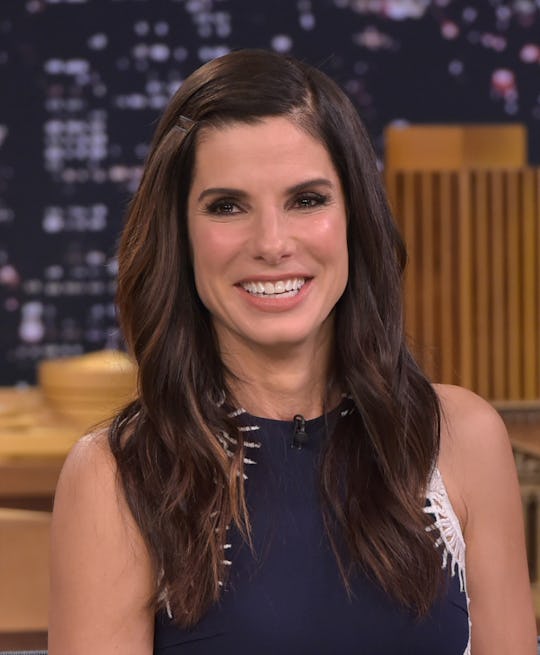 Theo Wargo/NBC/Getty Images Entertainment/Getty Images
Sandra Bullock Says Her Kids Are Loud As Hell & It's Adorably Honest
What is it about Sandra Bullock that makes her so darn likable? The 52-year-old Oscar-winning actress always manages, in my mind anyways, to be this relatable, sweet gal who already seems like someone I would hang out with. And now that Bullock is a mom of two kids, she just keeps that whole likability thing going. Sandra Bullock recently said her kids are loud as hell, and made every parent out there think, "Oh I so totally feel you, Bullock."
Bullock was visiting her friend, Harry Connick Jr., on the set of his new daytime talk show Harry. Which totally makes sense since Harry Connick Jr. is her male counterpart in the likability department (the two starred together in 1998's Hope Floats, and have been friends ever since). She opened up to Connick Jr. as a guest on the premiere episode of Harry about her two sweet kids, six-year-old Louis and four-year-old Laila, who are not, apparently, introverted quiet children.
The babies are so good. So loud. So loud. I have the loudest children on the planet, I don't know if it's the acoustics, but they are amazing.
I'm sure there are more than a few parents out there who can identify with that statement.
Bullock adopted son Louis in 2010, right around the time she won her first Oscar and her marriage to ex-husband Jess James disintegrated amid rumors that he was cheating on her. She, James, and his three children were all part of the adoption process together, but Bullock eventually took on the role of single mother and chose to raise Louis as a single mom.
For five years, it was just the two of them. And then in 2015, little Laila joined the family. She had been living in Louisiana in foster care for the first three-and-a-half years of her life when Bullock adopted her. She told People in December 2015:
When I look at Laila, there's no doubt in my mind that she was supposed to be here. I can tell you absolutely, the exact right children came to me at the exact right time.
Bullock also told People that Laila brought with her, "pink and glitter in the house mixed with Legos and Batmans."
And noise, apparently; Laila and Louis brought plenty of "outdoor voices" to the Bullock household. Sandra Bullock clearly isn't minding the noise, though: as she said in 2015:
My family is blended and diverse, nutty, and loving and understanding. That's a family.
Indeed it is, Sandra Bullock.