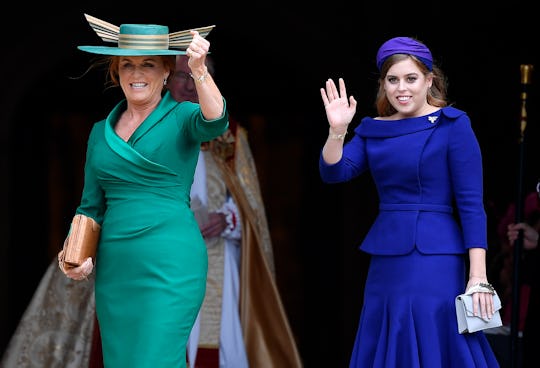 WPA Pool/Getty Images Entertainment/Getty Images
Sarah Ferguson Was Proud Of Princess Eugenie During Her Wedding For This Reason
Princess Eugenie's royal wedding last month to husband Jack Brooksbank was a super special moment for members of the United Kingdom's royal family. But the day was an incredibly special one for Princess Eugenie's mother, Sarah Ferguson. It's only been a month since then and Ferguson is still talking about her youngest daughter's big day (like every mother would). In a new interview, Sarah Ferguson opened up about her "proudest moment" at Princess Eugenie's wedding and it's very, very, touching.
Weddings are incredibly emotional events. There is something about watching someone walk down the aisle and commit to spending the rest of their lives with their partner — and for mothers of the brides, the emotions are even stronger. This was the case for Ferguson, who is extremely close with both of her daughters — 30-year-old Princess Beatrice and 28-year-old Princess Eugenie. "We do everything together, even go clubbing," Ferguson told Harper's Bazaar in 2007.
Because of this, Ferguson was so emotional during her daughter's wedding. Ferguson told the Daily Mail that Princess Eugenie stayed true to herself during her wedding, which made her proud of the woman she raised.
"My proudest moment was watching Eugenie standing tall, very proud of her scoliosis scar in her low-backed dress," Ferguson said. "I'd gone to all her fittings and sat there beaming with delight, and because there was no veil, it made a very strong statement."
Ferguson is referring to Princess Eugenie's gorgeous wedding dress, designed by Peter Pilotto and Christopher De Vos. The dress was reportedly designed "layer by layer" and featured a low back at the request of Princess Eugenie, who had surgery to correct her scoliosis when she was 12, according to Town & Country. Ferguson is right — the dress made a strong statement when Princess Eugenie walked down the aisle at St. George's Chapel.
I'm not crying, you are.
Even Ferguson admitted to the Daily Mail that she got choked up on her daughter's big day. Ferguson said:
I always went to weddings and thought: "Why is the mother of the bride crying?" But I completely understand why now. It's because it's so amazing to think your daughter is now grown up, leaving home, and starting her own life.
That is so sweet! And it's easy to see why Ferguson would get sad at her daughter's wedding, especially since Princess Eugenie put a lot of thought into the things at her wedding. Princess Eugenie's borrowed tiara was something that came straight from her grandmother's collection, according to People. And since her grandmother is the queen of the United Kingdom (and the emerald and diamond tiara has been in the family since 1942), it was even more special. Princess Eugenie's matching diamond and emerald earrings were reportedly a gift from the groom, according to People. How's that for something old, borrowed, and new?
And now that the excitement (and stress) from the wedding is all said and done, Ferguson told the Daily Mail that she is so happy for the newlyweds to start their life together. "She and Jack are just meant to be," Ferguson said. "He adores her and now I've got a son."
But, although her daughter is all grown up and could possibly start a family of their own in the future, Ferguson is still holding on to her little girl. "I am fiercely protective of my girls," Ferguson told the Daily Mail. "I'm like a lioness."
And when talking about her daughter's wedding, you can sense the "lioness" in Ferguson. She has every reason to be so proud of Princess Eugenie, especially after that gorgeous royal wedding.