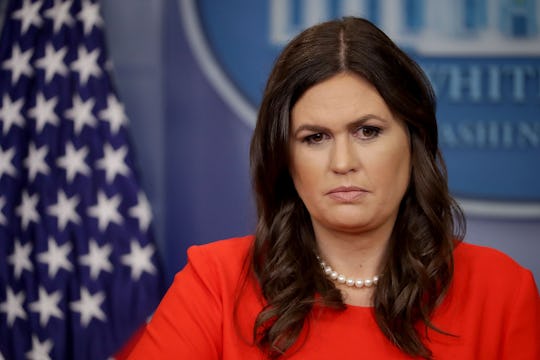 Chip Somodevilla/Getty Images News/Getty Images
Sarah Huckabee Sanders Just Thanked Trump For Empowering Moms
President Trump clearly expects a lot from his White House staff. Whether it's doing damage control for a myriad of mixed messages or consistently showering him with sycophantic praise, Trump's staff are kept well and truly on their toes trying to keep his ego stroked. His press secretaries perhaps most of all. Most recently, for example, newly-minted White House Press Secretary Sarah Huckabee Sanders praised Trump for empowering working mothers, and I'm pretty sure she just meant her.
During a press briefing on Wednesday, the mother of three told reporters that she is the first mother to ever hold the position of press secretary in the White House... but took zero credit for it. Instead, she offered the credit where all credit appears to go in the Trump administration — to the man himself. According to HuffPost, Huckabee Sanders said:
To the best of my knowledge, I'm the first mom to hold the job of the White House press secretary. That says less about me than it does about this president.
Can't you just picture him nodding along sagely with her compliment (as he is wont to do)?
She went on to talk about her children, the oldest of whom (daughter Charlotte) will start kindergarten in the fall. Huckabee Sanders spoke of her hope that:
Charlotte and every little girl in America should grow up in a country, that if we deliver on the president's agenda of better jobs, better health care, and a better tax system, that incentivizes women to work and raise children.
Huckabee Sanders noted that the honor of standing at the podium was "not lost on her," according to Business Insider, and credited the president with "empowering working moms is the heart of the president's agenda, particularly when it comes to things like tax reform."
Huh.
So I'm not in the business of taking away another woman's accomplishments. But that's exactly the point; Huckabee Sanders' accomplishments belong to her, not her boss. And it's 2017, girl, you don't actually need to thank your boss these days for hiring you even though you're a working mom.
As for her boss, let's get the facts straight. The American Enterprise Institute looked at the salaries of all White House employees and found that women were earning 63 cents for every dollar a man earned. Trump has a long, rich history of well-documented sexism towards women in all arenas, work and otherwise. His compliments and insults are endlessly tied to physical appearance, and he once told New York Magazine in an interview that he had a certain way of dealing with women, "You have to treat 'em like s**t." Adorable. But hey, he hired a few women in the White House, so his lifelong chauvinistic attitude and sexism is wiped clean off the chalkboard of our memory, right?
Wrong. He doesn't get a free pass just because he hired a qualified person for a position in his staff. Even though she is a working mom. As for his apparent devotion to "empowering working moms" with his agenda, where's the evidence to back that up? He has proposed some tax breaks for working mothers, but the details are roughly drawn at best.
So congratulations to Sarah Huckabee Sanders for breaking through a long-held barrier in the White House. But please don't think one hire can erase decades of misogyny. Our memories are longer than that.