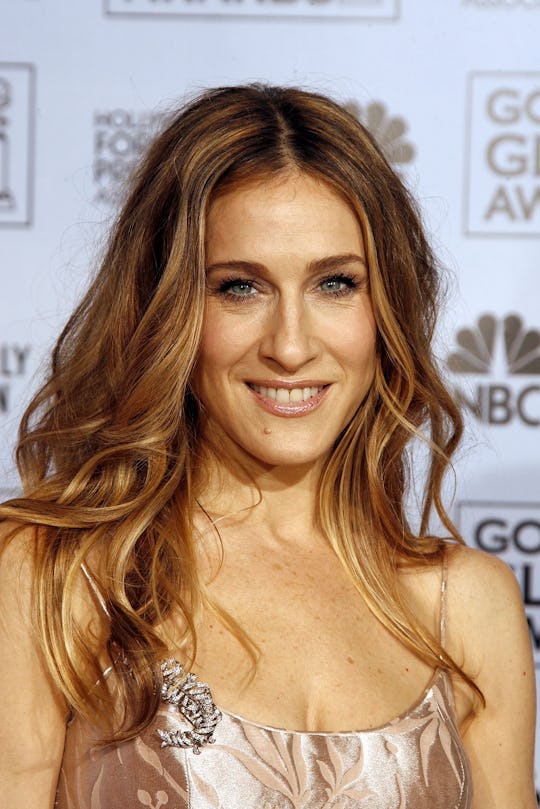 Kevin Winter/Getty Images Entertainment/Getty Images
SJP Accidentally Paid Tribute To Carrie Fisher
Sarah Jessica Parker arrived on the Golden Globes red carpet Sunday evening in a beautiful white gown and a braid wrapped around her head in what appeared to be an artful tribute to Princess Leia. Some fans thought Sarah Jessica Parker looked like Carrie Fisher at the Globes, and it made them super emotional. Even though it was an accident, it was quite a perfect one.
Parker told Natalie Morales on NBC's Golden Globes red-carpet special that she "didn't mean for that" tribute to happen, according to the Washington Post. She said maybe the choice was a "subconscious" tribute, but that she actually chose the style because it's what her mother wore on her wedding day, according to the Post.
It was a bit shocking that Parker was the first star on the carpet that appeared to have paid any tribute to Fisher, who died recently after suffering a massive heart attack during a flight. The news stung Star Wars fans, many of whom looked up to Fisher's portrayal of Leia as being anything but the characteristic damsel in distress. In fact, in the most recent Star Wars film, it's revealed that Leia Organa is actually a general.
Parker's white gown, to some fans, resembled the high-necked gown that Princess Leia wore in the original Star Wars franchise. It had long, flared sleeves, similar to what Parker wore on the red carpet.
And, of course, many fans thought SJP's hair looked like Princess Leia's braided buns. But, it's worth noting that Princess Leia also wore a single, wrapped-around braid in the same style SJP wore during Return of the Jedi:
Parker is nominated for Best Actress in a TV Musical or Comedy for her portrayal of her character Frances in Divorce. Parker told Morales on the red carpet that she enjoyed playing Frances, according to the Post:
I love her. She's complicated and human and surprising and enormously challenging.
Parker told reporters at the 2016 Television Critics Association summer press tour that Frances is drastically different than the other character that she played for six years of her life: Carrie Bradshaw on Sex and the City. Parker is a working mother who becomes unhappy in her marriage, according to E! Online, while, of course, Carrie is a writer who lives in New York City and writes about sex and relationships, often using her three best girlfriends and their ridiculous adventures as inspiration. Parker said the first huge distinction between Frances and Carrie was their wardrobes, according to E! Online:
I don't think that we actually talked a lot about trying to make her different. I think this story is different. I was always interested in the story of marriage, that's how this all started. I think Frances was so much her own person from the moment I read the pilot. She was so distinct from not only Carrie but any other character I have ever played.
The role was clearly different and impressive enough that it earned SJP her ninth Golden Globe nomination. She has previously won four Globes for her portrayal of Carrie in Sex and the City.