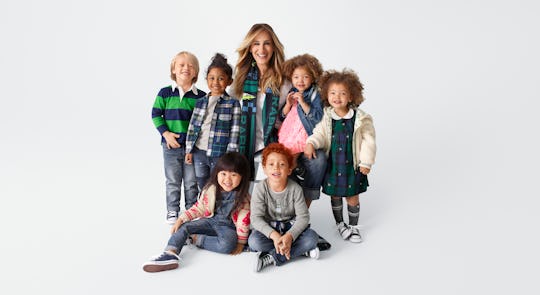 Gap Kids
Sarah Jessica Parker Hopes Families Turn Her New Gap Kids Line Into Hand-Me-Downs
One of Hollywood's biggest style icons has struck gold again, this time with an all-new clothing line for Gap Kids. Of course I'm talking about Sarah Jessica Parker, who is not only a fashion icon and designer, but an actress, producer, and a mother of three. With the new line, available on gap.com starting August 27th, Parker told Romper that her and her design team were most inspired by the colors and prints from her own childhood. In this exclusive interview with Romper, Sarah Jessica Parker talks her new Gap Kids clothing line, as well as the personal nostalgia she was able to bring to the table, why she hopes families will continue the tradition of sharing clothes, and which pieces are her absolute favorites.
You might notice that SJP's collection with Gap Kids is full of fun bold colors and plaid prints, which I assumed were inspired by 90s fashion since that seems to be so on-trend in all aspects of fashion at the moment. But, according to Parker, there was so much more to the color and plaids. "I mean, actually we thought a lot about the seventies, too. I think from the beginning, from the first collection in spring, we were looking at a lot of images from my past, from my childhood," Parker told Romper. "The design team was excited to look at their own past as well as Gap's past and children's collections, and as a result you start looking at fabrics and prints and the details."
She added, "Obviously plaid's played a big role in my growing up life and we wore a lot of plaid as young girls, actually boys and girls in my family. And so I wanted to find a way to use those." Parker went on to explain that stripes were "definitely the nineties," but was quick to remind Romper that they were also a big part of seventies fashion. In fact, Parker pointed out that the current 90s trend in fashion could have never been predicted by her or the design team, so they just happened to get lucky in that aspect.
"Those rugby shirts, I was really excited that we could find a way to do that and make them comfortable. So you're spot on," Parker explained. "We were definitely looking at the past, but we were... I don't think feeling that it was purposefully something that we'd hoped would be on trend. I think we were just enjoying it as a point of inspiration. I didn't know others were doing the same, frankly."
Plus, Parker's latest Gap Kids collection was also inspired by the family tradition of hand-me-downs. You might not know this, but Parker is one of eight children, so hand-me-downs were essentially for her and her siblings as they are for so many families all over the world. With a price point starting at $14.95, Parker's latest collection is definitely family friendly. "[It] goes along with this idea of hand-me-downs and sharing and passing along and passing around," Parker told Romper. "Which is how I grew up and how my children dress. And a lot of people I know share clothing and pass it along, and so a huge amount of people are making memories from the same items, which is very nice."
That's what Parker hopes will happen with her latest Gap Kids collection, too. That parents will choose these items for their children to wear and then share them with their younger siblings, other children in the family, etc. As she explained to Romper, "We thought a lot about durability and comfort, and obviously price point and the fabrics that we wanted to use and how they would feel against skin, and how to [give parents] choices that they would feel do address things like durability and comfort and price, and that they're well made and they can last an energetic childhood."
So, of all the wonderful items included in Parker's Gap Kids collection, which ones are her favorite? The designer admitted she couldn't possibly pick one item over the other as a favorite, but did mention that she "really" loves the Black Watch plaid dress, adding that she wishes they made "one for women." Parker also shared, "I love the football scarf. I love the rugby shirts, the backpack. The jean jacket is super soft and really lovely."
Make sure to check out the full Gap | Sarah Jessica Parker collection for kids on gap.com when it is released on August 27th.