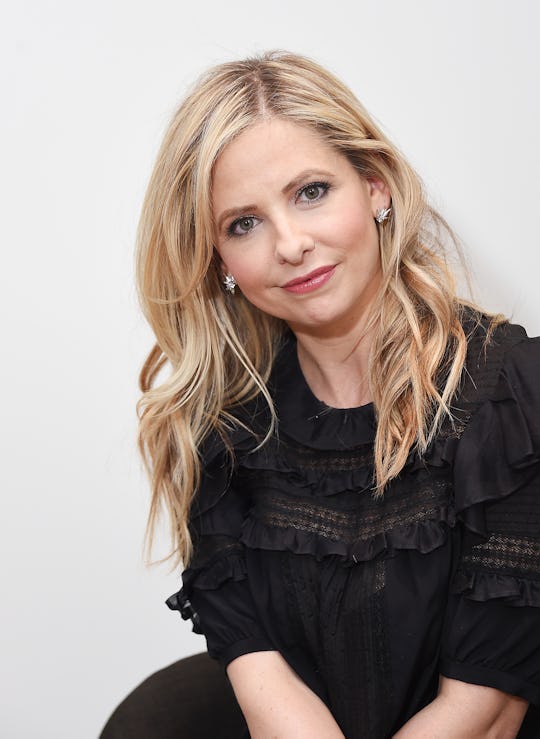 Michael Loccisano/Getty Images Entertainment/Getty Images
Sarah Michelle Gellar Took Her Son To Get A Manicure & The Internet Got All Riled Up
Sarah Michelle Gellar is probably best known as Buffy The Vampire Slayer. Which means that, even before she had kids and got married, the girl knew how to slay all day. Now that she's a mother of two, an actress, a wife, and an entrepreneur, I think it's safe to say she is probably winning at life. So when Gellar got a matching manicure with her son the other day and shared the pictures on her Instagram Story, wouldn't you think the internet would just love it? Because there's something so trustworthy and together about her, don't you think?
Well, it turns out some people loved it... and others were weirdly offended. Like, over-the-top upset about a 5-year-old boy getting his nails painted. It's a good thing I'm not a famous actress... I have four sons who have all happily lined up to get their nails done on more than one occasion. But I digress. It seems that when Gellar shared pictures of her son Rocky getting his nails done with his mom (they even have the same nail color, and I'm so jealous I never thought of that), the internet got aggressive.
Not only did some people feel it necessary to share their opinions about gender roles, they also felt Gellar should be called out for "brainwashing" her son with nail polish and happiness.
Some commenters took to Mic's Facebook page, where the media outlet shared a story about Gellar's trip to the salon with her son, to offer Gellar (and ostensibly her husband, fellow actor Freddie Prinze Jr.) some advice on how to raise "men."
"He needs band-aids on the ends of his fingers, from his Dad teaching him how work on a car, fish, hunt, and farm..." one reader commented.
"Men can get manicures but at an age with a fragile psyche maybe it's best they go with their dad. But let's say they go with their mom, whatever, technically everything can be 'gender sensitive'," another wrote. "Should mom's take their boys to the salon for fabulous pedicures with the ladies, 'man buns' or shopping for 'RompHims' too? C'mon now at some point as a parent you have to stop trying to be cute and think about your kid instead of making a point."
Other users were quick to point their fingers, which I assume were not painted with colorful nail polish, at Gellar for somehow being a bad parent.
"Yeah another kid twisted by their parent," one person commented on the story. "Need a license to drive. Apparently we should test for parentage rights as well."
Another quipped, "Wonder why he's covering his face? Could he be embarrassed?"
"Wtf???? He's 5!!!! Once he's grown that's differ but wth are you teaching your kid?" one more person chimed in.
Then there were the comments that felt certain young Rocky would be bullied for having his nails painted. "Well.....that ought to get his a** kicked," one person wrote, while another commented, "Child will be bullied for life!"
Interestingly, none of those people worried about the mentality of any person who would bully a child because of the color of their nails. Perhaps because they, themselves, appeared to be doing just that as adults.
Fortunately, there were plenty of people who saw the post Gellar shared for what it was; a mom enjoying a fun outing with her child. Period.
Other fans posted on Facebook to share their own stories of spa days with their sons, whether it was at home or at the salon. Fond memories of time spent together and not losing your damn mind because a little boy got his nails painted.
Because even if someone is a famous vampire slayer, she's allowed to hang out with her kid having fun doing whatever they want to do. Maybe especially if she's a vampire slayer.
Check out Romper's new video series, Romper's Doula Diaries:
Watch full episodes of Romper's Doula Diaries on Facebook Watch.