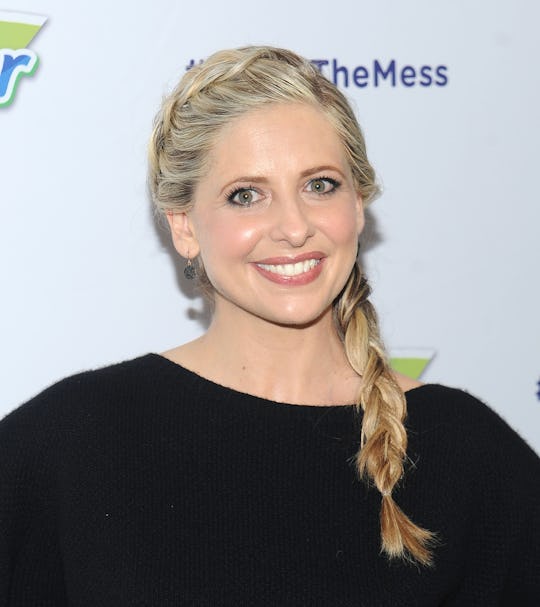 Brad Barket/Getty Images Entertainment/Getty Images
Sarah Michelle Gellar Joined A Support Group To Help With Her Marriage & Moms Will Relate
It's an insidious issue in marriages that many people don't really talk about. Perhaps because there are so many more serious issues that rightfully take precedence on the marital discord-o-meter. But it's still a problem, and it's time moms everywhere stand up and speak out about it. And it's looking as though there may already be a spokeswoman to champion the cause. Sarah Michelle Gellar opened up about an issue in her marriage, and trust me... you're probably going to relate.
You see, her husband of 15 years, fellow Scooby Doo actor Freddie Prinze Jr., apparently had an issue with video games. As in, he played them way too often. The Buffy The Vampire Slayer actress was a guest on Harry Connick Jr.'s talk show Harry on Wednesday and got real about her marriage. When she was asked for secrets to a happy union, her answer was, "Separate bathrooms. I feel like there are certain things that should just be kept your own and they never need to know about." Totally agreed, of course. She went on to note that, to a degree, keeping your interests a little separate is a good idea too. To a point, according to Hello.
A separate shopping credit card or if you are a guy, maybe a separate gaming card so I don't have to see how much video games cost.
The subject of video games got Connick Jr. excited, who admitted with a laugh that his wife once threatened to leave him if he didn't give it a rest with playing "Call if Duty." According to Gellar, who was on the show teaching the musician how to make gingerbread families and promote her business, Foodstirs.com, things got even more serious with her husband's video game playing:
There used to be a game called 'World of Warcraft. literally at this point was like, I lost my husband, so I joined a support group ― not a joke ― called 'Widows of Warcraft.' This is a true story.
Gellar is certainly not alone; according to a 2012 survey by Brigham Young University, 65 percent of spouses who don't play video games admitted they fight frequently about their spouse's gaming habit, and 75 percent said gaming has negatively impacted their marriage. The spouses even have a name, "Gaming Widows," and the survey found that being overly invested in this sort of solitary engagement can cause feelings of depression, isolation, and loneliness for the spouse.
Of course, Prinze Jr. and Gellar had a long history of working together to solve their issues. As the actor noted in an interview with E! News in April, the two were "friends for two years" before even going on their first date, which helped them develop a solid foundation:
We ended up being the perfect balance. But it didn't happen until years after and there was a solid foundation built, and that's probably the main reason why we've always been cool and groovy.
Also it probably helps that the woman he's married to is willing to ask for help when she needs it. And she's not above sharing some advice for offer women who might find themselves in a similar situation, according to Huffington Post:
Ladies, if you are losing them to video game world, there are support groups out there on this thing called the world wide interweb and you can meet other people who have dealt with this same issue and have suggestions on how to communicate [about] the video game.
Of course, there's another way to skirt around the gaming issue, as the mom-of-two noted, "Have kids, cause there's just no time."
Can I get an Amen to that?
Check out Romper's new video series, Romper's Doula Diaries:
Watch full episodes of Romper's Doula Diaries on Facebook Watch.