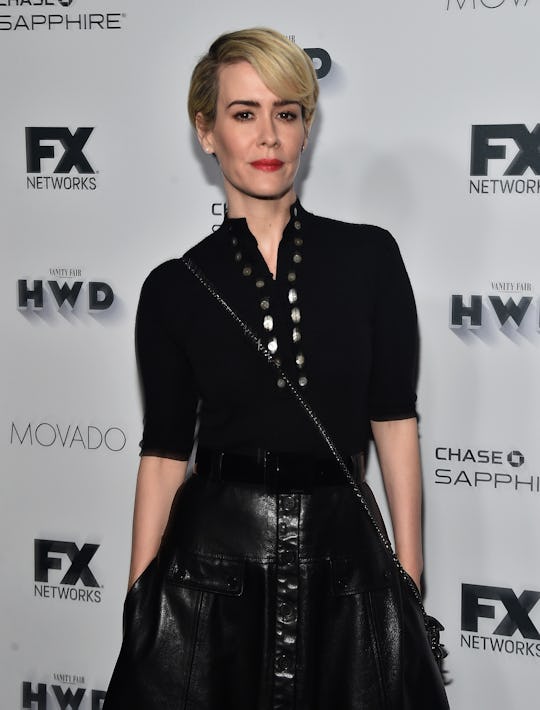 Alberto E. Rodriguez/Getty Images Entertainment/Getty Images
Sarah Paulson Brought Marcia Clark To The 2016 Emmys And It Was Amazing
Typically, a plus one to an award show is a beloved partner, a family member who has supported the star through it all, or a best friend from before the famous days. But sometimes stars surprise you by bringing a plus one who is a star in their own right. This year, The People v. O. J. Simpson: American Crime Story star Sarah Paulson brought Marcia Clark to the 2016 Emmys as part of her entourage, which is, in a word, rad.
In an interview with Giuliana Rancic on the E! Red Carpet, Paulson confided, "I hope it's a big night for [The People v. O. J. Simpson]. I'm so proud of it. I brought Marcia Clark with me!"
Paulson is, of course, nominated for playing Clark in the FX miniseries based on the O. J. Simpson trial. Marcia Clark was the head prosecutor bringing the case against Simpson, and the miniseries extensively covered the intense scrutiny under which she found herself during the 1995 trial. Everything from her hairstyle, to nude photos leaked by her ex, to a possible flirtation with her second chair Chris Darden became fair game in a media circus that crafted the so-called trial of the century.
Of course, Clark went on to famously lose the case, which made the vitriolic (and often misogynistic) attacks against her all the more painful. In fact, Paulson admitted that she hasn't watched the miniseries at all (even though she doesn't necessarily have a rule against watching herself), because she can't bring herself to relive the performance.
"I don't want to watch [Marcia] lose, and I know that's what happens," Paulson told Rancic.
Paulson brought the woman behind her character to the award show, but Clark coyly declined to be interviewed. The camera panned over to her, in a stunningly embroidered black and white gown, and she smiled and waved politely. Understandably, Clark didn't wish to open herself up to any more awkward red carpet questions than those that were already being bandied about.
For his part, Jimmy Kimmel gave Clark a shout out in the audience during his opening monologue, joking:
"I'd like to acknowledge the winner of tonight's plus one contest: Sarah Paulson, who played Marcia Clark, and actually brought Marcia Clark with her tonight. Because everyone in LA knows, if you want to win, sit next to Marcia Clark. Hi, Marcia! This must be very strange for you. I mean, are you rooting for O. J. to win this year?"
Paulson jokingly booed the dig, while Clark chuckled politely. It's safe to say that these two are keeping it impossible classy at the 2016 Emmys.