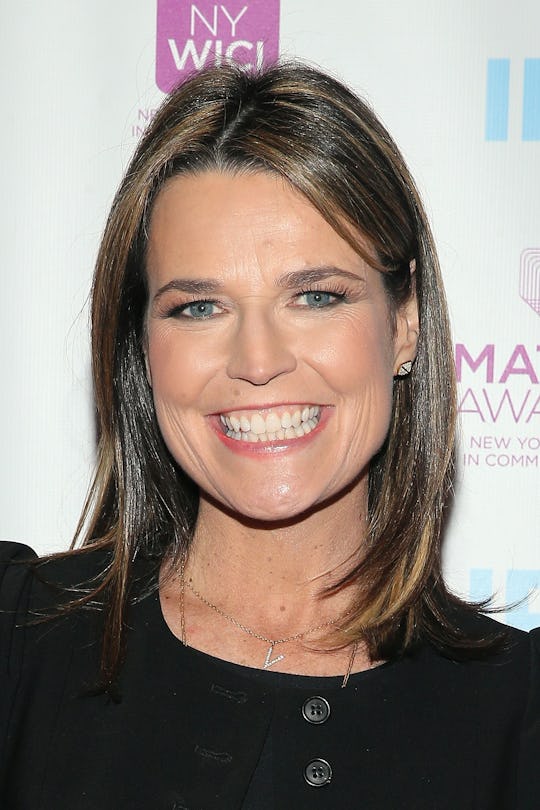 Jemal Countess/Getty Images Entertainment/Getty Images
Savannah Guthrie Reveals Her Baby's Gender, But The Name Is Still A Secret
As her family grows, one Today co-host is doing what any good TV personality would do by keeping her viewers up-to-date on all the new developments. After revealing on-air that she is expecting her second baby back in June, Savannah Guthrie and her Today colleagues used pink and blue milkshakes and a not-so-subtle airplane banner in the sky to let the world know some more about the little one. On Monday, Guthrie revealed she's having a boy in December, but she's keeping tight-lipped about what she and husband Mike Feldman will call the new little brother of their 2-year-old daughter, Vale.
In a blog post she published shortly after Guthrie announced her second pregnancy, the 44-year-old mother reflected on how blessed she and her husband felt, calling the addition "joy multiplied infinitely." But while the joy she feels about her pregnancies has been apparent throughout each, there's one difference: Guthrie opted to learn the sex of the baby before the big birthday this time — and she and Feldman made that decision for Vale's sake. "I thought, it's already enough upheaval for a little girl to have a new baby — we got to tell you what kind of baby," she said on Today.
What she's not telling, though, is what the baby's name will be. During a Today segment with a baby name consultant (yes, that's apparently a thing) and the show's meteorologist, Dylan Dreyer, who's also expecting a son in December, the mum remained mum about the possibilities. "We have a very strong contender, but we believe you should look at the baby before you name him or her," she said.
In the meantime, of course, there's plenty to think about while preparing for the baby boy. When she announced her pregnancy in June, Guthrie also explained that she would not travel to Rio de Janeiro to be part of NBC's coverage of the Olympics in August, according to People. Brazil is the epicenter of a outbreak of Zika virus, an illness especially dangerous for pregnant mothers because it can result in serious birth defects. Guthrie also wrote in her blog post that she hopes she still has the skills and the stamina to take care of the newborn at home: how to swaddle him, "coax out that little baby burp," and staying awake for weeks on end to care for him.
And, at the time of the public announcement, Vale was none too pleased:
Now that the toddler has had a few months to get used to the idea and has learned that she's about to become a big sister to a little brother, perhaps she's feeling more excited about the idea. Her mother certainly is, remembering the "feeling of profound gratitude" she experienced when Vale herself was born. And seeing the Feldman-Guthrie family grow and thrive on Today through the coming months and year will definitely make viewers thankful, too.