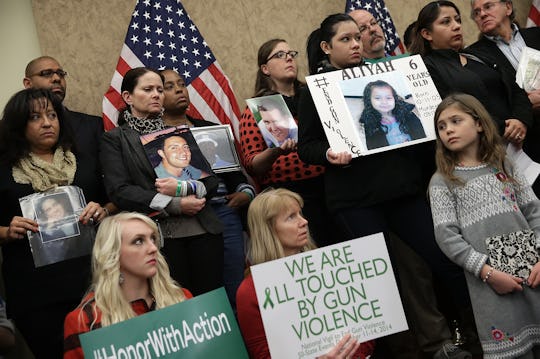 Win McNamee/Getty Images News/Getty Images
Saying The Sandy Hook Shooting Was Fake Is A Horrible Insult To Those Who Lost Their Lives
It has been four years to the day since 20 children and six school administrators were killed at Sandy Hook Elementary School. Four years since Adam Lanzo first killed his own mother and then went on a shooting rampage in Newtown, Connecticut, then ultimately killing himself. The city of Newtown held a moment of silence on Wednesday to honor the memory of those precious lives lost, but not everyone seems to remember. In fact, there are some conspiracy theorists who are saying that Sandy Hook was fake, that those lives were not lost. Except it happened, no matter how badly we wish it hadn't happened, it did. And denying that one, simple truth is doing a grave dishonor not only to the memory of those whose lives — many of them children — were cut short, but to the families they left behind.
Just ask Len Pozner, who lost his 6-year-old son Noah in the Sandy Hook tragedy. Not only has Pozner had to deal with the loss of his little boy, who was in first grade at the time, but he has received hate mail and even a death threat from a Florida woman who insisted that Sandy Hook was fake, according to CNN. Lucy Richards of Tampa Bay, Florida, was indicted on four counts of making threats after she called Pozner and threatened him, saying, according to CNN:
You gonna die, death is coming to you real soon and there's nothing you can do about it.
Pozner's son Noah was the youngest child to die on Dec. 14, 2012. He had only turned 6 with his twin sister, Arielle (who he called his best friend), in November.
Pozner spoke to CNN about his attempts to combat online hoaxers (like Alex Jones' conspiracy-laden site InfoWars).
There were news reports that had some conflicting information, and so we worked to clarify that information. I call it a thought virus, because really what they want to do is they just want to replicate their way of thinking to other people. What we do is we reduce the content that's on the web. We've taken down probably thousands of pieces of content on the Internet.
Regardless of what some hoaxers hope to prove, whatever their agenda might be... those who followed the aftermath of the shooting remember. The families of those killed remember the 19 other first-graders who lost their lives like Noah Pozner. Their memories and the horror they faced when they got news that their children were never coming home from school is no hoax.
Charlotte Bacon, 6
Charlotte wanted to be a veterinarian when she grew up, according to CBS News.
Daniel Barden, 7
A lover of s'mores, campfires, and the beach, according to CBS.
Dylan Hockey, 6
Dylan and his family had just moved from England two years before he died in the arms of his school aide, Anne Murray Murphy, at the Sandy Hook shooting, according to CBS.
Jesse Lewis, 6
Jesse was learning to ride horses. The morning he died, he ate a sausage and egg sandwich for breakfast at a local deli, according to CBS.
Jack Pinto, 6
Jack was a fan of New York Giants' Victor Cruz; after his death, Cruz wrote "RIP Jack Pinto" and "This one is 4 U" on his shoes and gloves to play against the Atlanta Falcons, according to CBS.
Grace McDonnell, 7
Grace loved the beach, loved painting, and truly loved her King Charles spaniel named Puddin', according to CBS.
Jessica Rekkos, 6
Jessica's parents, Rich and Krista Rekos, released a statement about their daughter and her love of horses after she died, according to CBS:
She devoted her free time to watching horse movies, reading horse books, drawing horses and writing stories about horses.
Ana Marquez-Greene, 6
Ana was a confident, talented singer, according to CBS.
Madeline Hsu, 6
Madeline was a shy, quiet little girl who loved dogs, according to CBS.
Olivia Engel, 6
Already at the age of 6, Olivia's interests ran the gamut from music to art to sports, according to CBS.
James Mattioli, 6
James loved numbers, his mom's French toast, and couldn't wait to be big enough to order his own foot-long sub at Subway, according to CBS.
Chase Kowalski, 7
At 7 years old, Chase had already completed his first triathlon, according to CBS.
Catherine Hubbard, 6
Catherine loved animals, according to her parents. When she died, they asked for donations to be sent to a local animal shelter.
Josephine Gay, 7
"Joey", as her parents called her, had just celebrated her seventh birthday three days before the shooting at Sandy Hook, according to CBS.
Emilie Parker, 6
Emilie's parents remember her as a sunny little girl with a lovely disposition, who was always smiling, according to CBS.
Caroline Previdi, 6
Caroline is remembered as a little girl with a generous heart, according to CBS.
Avielle Richman, 6
Avielle loved Harry Potter, and was learning archery before she died, according to CBS.
Benjamin Wheeler, 6
Ben wanted to be an archaeologist or a paleontologist when he grew up, according to CBS.
Alison Wyatt, 6
Alison had an infectious sense of humor and loved to create art, according to CBS.
These are the children hoaxers want to pretend we did not lose. These are the lives snuffed out by gun violence along with the educators who worked at the school:
Vicky Soto
Mary Sherlach
Dawn Hochsprung
Rachel D'avino
Lauren Rosseau
Anne Marie Murphy
Every one of these lives mattered. They mattered enough to refute conspiracy theories. And they mattered enough to take the time to remember.