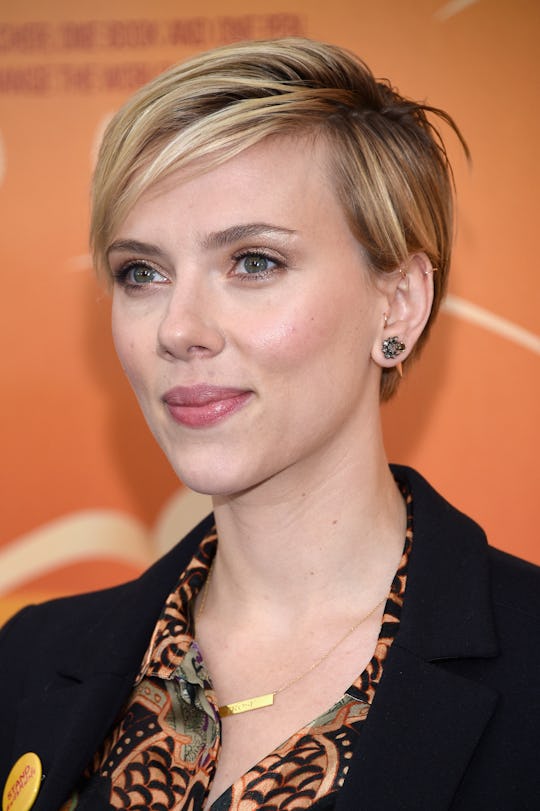 Dimitrios Kambouris /Getty
Scarlett Johansson Narrates 'Alice's Adventures In Wonderland,' & She's Not The First To Do So
It's been a long time since I listened to an audiobook, but when I was a kid, it was one of my favorite things to share with my mom in the car. Listening to Stephen Fry narrate the Harry Potter series will always be a fond memory of mine, so I'm really looking forward to hearing Scarlett Johansson narrate Alice's Adventures in Wonderland.
According to Vanity Fair, the talented actress will be narrating the whimsical, classic children's story as her sister Vanessa Johansson directs her. It speaks volumes of Johansson's talent that she's taking on this project. Not only does Alice's Adventures in Wonderland have many different characters to voice, but each one is extremely unique, so it requires injecting a lot of personality into each voice. And when you think of the iconic figures that have voiced these characters before in film, like Alan Rickman as the Cheshire Cat, it makes the project sound even more thrilling. The book will be available on Feb. 23, but you can pre-order it now.
Scarlett's narration of the classic is exciting, but she's also not the first to take on an audiobook. While you wait for the release of Alice's Adventures in Wonderland, check out some of your other favorite actors and actresses narrating children's books.