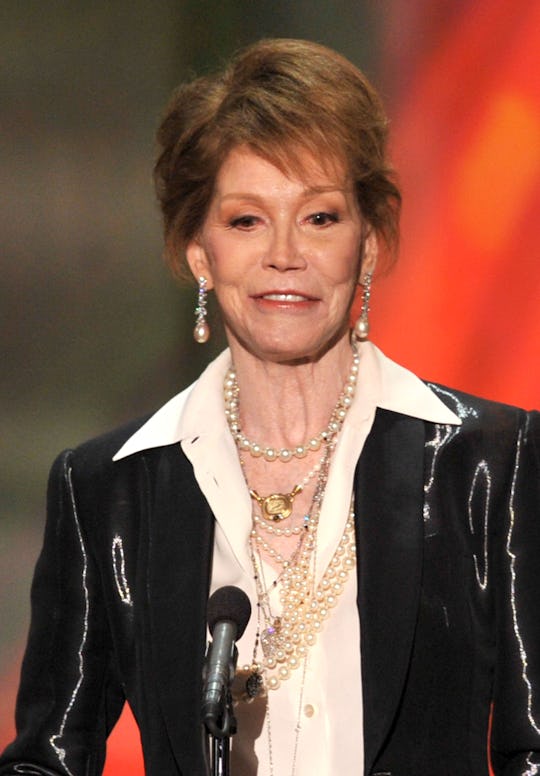 Kevin Winter/Getty Images Entertainment/Getty Images
Awesome Scenes From 'The Mary Tyler Moore Show'
Mary Tyler Moore died on Wednesday, according to her publicist. She was 80 years old. Some people might remember her for championing juvenile diabetes research, others might remember her as a television executive. But we all remember her as Mary Richards, the first, best example of an independent woman in the '70s. To honor her memory, let's all take a moment to watch scenes from The Mary Tyler Moore Show.
TMZ reported on Wednesday that Moore was in "grave" condition at a Greenwich Hospital in Connecticut. Her family confirmed the actress had been removed from a respirator on Tuesday night. She died of pneumonia, surrounded by family who rushed to be at her side. Moore's first big role on television was to play opposite Dick Van Dyke on The Dick Van Dyke Show, from 1961-1966. After the show ended, she went on to be the co-founded of MTM Enterprises, which produced essentially all of the great sitcoms from the era. Newhart, WKRP In Cincinatti, and Rhoda, to name a few. But first came The Mary Tyler Moore Show. When it was released n 1970, no one had ever seen anything like it. A young single woman, focused on her career, her friends, her killer apartment. As Mary Richards, Moore became a beacon for women struggling to break free from the patriarchy and find a new way to define themselves. And the most brilliant part? She managed to make us laugh while she was doing it.
The Good Time News
The Season Three premiere saw Mary going to her boss to demand equal pay. Feminist Gloria Steinem went on record to say she wasn't happy with the less-than-satisfying ending (I won't spoil it for you), but perhaps that's what made it realistic. Forty years later, women are still fighting for equal pay. And forty years later, it's not so satisfying.
My Brother's Keeper (1973)
Mary's friend Phyllis (played by the incomparable Cloris Leachman) wants Mary to date her brother Ben. Unfortunately, there's a problem. Her handsome, talented, funny brother spends all of his time with her enemy, Rhoda (Valerie Harper). Also... he's gay. And in a move that was decades ahead of its time, The Mary Tyler Moore Show poked fun not at Ben, but at Phyllis. It's brilliant.
Rhoda The Beautiful
Rhoda lost weight. That's right... the show was all over body shaming.
"I hate spunk"
Possibly one of the most famous lines of the show. Mary's boss Lou Grant (Ed Asner) calls her out for having spunk... and he's not much of a fan.
The Last Scene
I'll let this one speak for itself. "I think we all need some Kleenex."