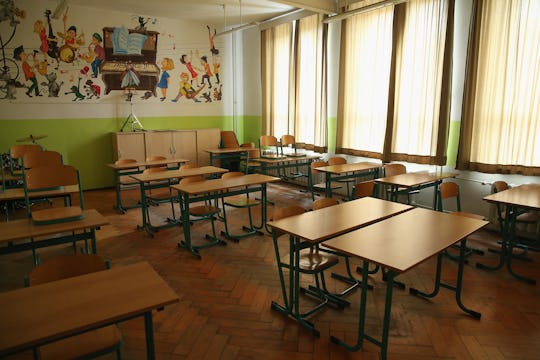 Sean Gallup/Getty Images News/Getty Images
Immigrant Kids Participate In National Protest Day
Thursday saw a major nationwide strike carried out by immigrants, fittingly called "A Day Without Immigrants." The strike was meant to shed a light on several issues central to the lives of immigrants, not the least of which being President Donald Trump's recent attempt to impose a travel ban on seven Muslim-majority countries coming into the United States and the building of a border wall with Mexico. As immigrants across the country walked out of their place of work (or didn't show up at all) to protest the systemic xenophobia that followed the president's policies, one school district recorded 9,855 absences as part of the strike as well. It was a powerful message about the next generation of immigrants, and their role in shaping the country.
The Winston-Salem/Forsyth County school district of North Carolina reported a total of 9,855 absences on Thursday; on Wednesday, the day prior, there were only 4,143 students absent. One student spoke on condition of anonymity to Fox 8 News about why his parents kept him home from school, saying,
I didn't think it was going to be a big deal, until my parents started talking about it. That's how I knew it was a big deal. Once they figured it out, that's how I knew it was a big deal.
The same student also explained that people taking part in the Day Without Immigrants made a conscious choice to go "off the grid":
We weren't going to buy anything from the stores, we weren't going to go to school, we just weren't going to participate for a day. You know, basically be invisible.
The absences on Day Without Immigrants were felt across the country, and in other school districts as well. In Grand Rapids, Michigan, students skipped school to honor the national day of protest, with enough absences that the Grand Rapids Public School District did not meet the 75 percent attendance mark that constitutes an instructional day. The district got in touch with parents through social media and robocalls to acknowledge their efforts... and urge them to send their children back to school on Friday:
We certainly honor and respect our students and parents who participated in this national event. Now, it's back to school time! So I am calling on all parents and guardians to join me in helping to ensure our kids are back to school tomorrow.
In other parts of the country, employees walked out of their jobs for the day. Businesses in cities like Philadelphia, Los Angeles, Chicago, New York, and Boston participated by closing down in solidarity with their employees. Coffee shops, food trucks, grocery stores, and restaurants shuttered their doors in response to Trump's firmly anti-immigrant agenda.
Between his plans to deport illegal immigrants, build a wall between Mexico and the United States, and close the borders against refugees, immigrants living in the United States have much to worry about — not just their own rocky futures, but also the futures of their children.
Which is why the thought of empty desks in school districts across the country was perhaps one of the most significant protests. Because what exactly would the future of this country look like, without immigrants?
As it turns out, pretty empty.