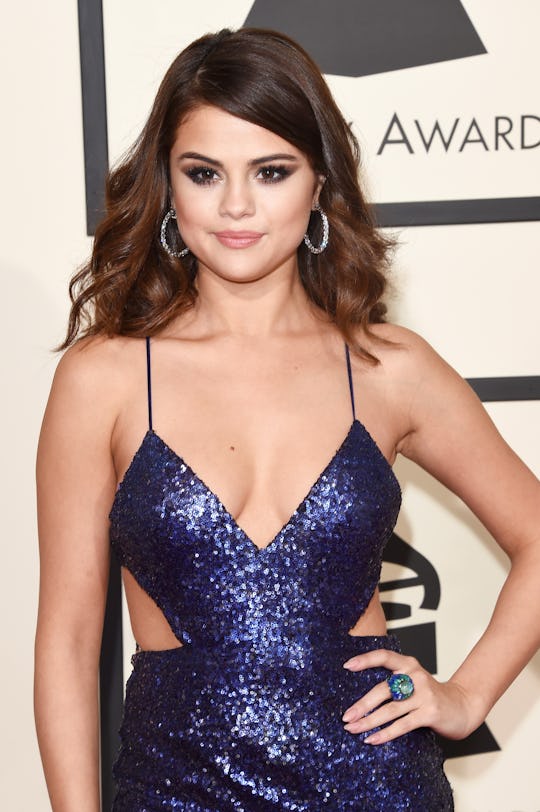 Jason Merritt/Getty Images for NARAS
Selena Gomez & Charlie Puth Arrived At The Grammys Separately, But It Has Nothing To Do With Their Relationship
Although everyone expected the fabulous pair to arrive together on Monday night, Selena Gomez and Charlie Puth arrived separately at the Grammys. Although they did collaborate on a duet and rumors have swirled about them dating recently, Gomez seems to put friendship above all else, because she's awesome. Puth told Ryan Seacrest, according to E!: "I think [Selena's] coming tonight. I think she's coming with Taylor [Swift]."
Gomez definitely did show up with Swift, who is nominated for seven Grammys (and who already snagged one for Best Music Video before the awards show even began). A video captured the moment the two girls found out that "Bad Blood" won Best Music Video, and Gomez — preparing for the Grammys with Swift — freaked out even more than her award-winning friend did.
Personally, I think it's awesome that Gomez showed up with — and for — Swift. Hollywood often focuses on relationships, but it's awesome to see Gomez supporting her friend continually, even if she might be in a romantic relationship. Gomez and Swift have been friends for years now, and it's great to see them continue to put friendship first. Some called Taylor Swift's squad a tactic or show, but it seems like time has proven naysayers wrong. After all, Swift showed up sans Calvin Harris, and Selena opted to support her friend from red carpet all the way through to performance.
It was also great to hear Puth's very relaxed attitude to not showing up with Selena Gomez. "I brought my mom as my date," he told Seacrest. "I always said I would bring my mom as my date." How awesome is it to see two millennials leading their own lives confidently and putting their friends and family first?