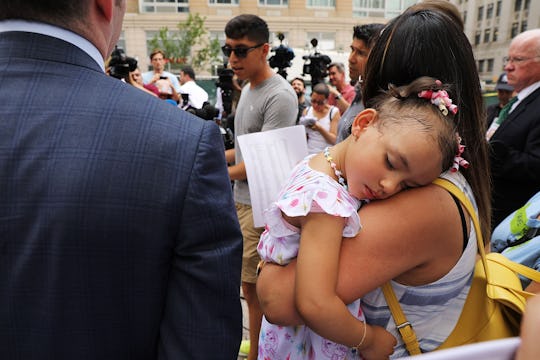 Spencer Platt/Getty Images News/Getty Images
Separating Immigrant Families At The Border Could Have Permanent Consequences, Former ICE Chief Warned
On Wednesday, President Donald Trump signed an executive order that ended his policy of separating immigrant families at the U.S.-Mexico border. The news comes after weeks of outrage and worry about the current state of the Trump administration's "zero tolerance" policy on undocumented immigrants, which has reportedly resulted in at least 2,000 children being taken away from their parents, according to NPR. While this new order is expected to keep immigrant families together moving forward, it's fair to worry about those who have already been broken up, especially after a former ICE chief warned that separating immigrant families at the border could have a permanent consequences.
On Tuesday evening, former U.S. Immigration and Customs Enforcement Chief John Sandweg, who served as acting director under President Barack Obama from 2013 to 2014, spoke to MSNBC about what has been happening at the U.S.-Mexico border. Despite assurances from the White House that separating migrant parents from their children when they illegally enter the country would only be "temporary," according to a report from CNN, Sandweg said there is a possibility that families could be torn apart "permanently."
After admitting that he found this new policy of taking children and infants away from their parents and housing them in temporary shelters "shocking," according to HuffPost, Sandweg went on to explain that "once you separate those families, you run a serious risk that they'll never see each other again."
But why does he think this situation could end up being permanent? Sandweg noted in his interview with MSNBC that migrant children and their parents are put on different legal tracks that move at different speeds once they are no longer together. As he explained to MSNBC, adults could potentially be deported very quickly, while children's cases tend to move through the legal system at a slower rate.
"So now you have the parent back in Honduras or Guatemala, and the child could be in a childcare facility somewhere in the United States, thousands of miles from the border," he explained, according to HuffPost. "It gets very hard for the federal government to coordinate and track the location of both people."
To that end, on Sunday The New York Times reported that some parents had already been deported back to their home countries while their children remained in the United States.
If parents are sent back to their country of origin and their children remain on U.S. soil, another massive roadblock could very well keep them from being reunited. As Sandweg told MSNBC, "You could be creating thousands of immigrant orphans in the U.S. that one day could become eligible for citizenship when they are adopted." NPR reported on Tuesday that the Office of Refugee Resettlement will look for a foster family or sponsor to take in children who have been separated from their children, although there was no concrete idea as to what the time limit for resettlement might be.
The Department of Homeland Security insists that there are "procedures in place" to make sure parents and their children stay connected, according to the DHS website. ICE spokeswoman Liz Johnson told MSNBC in a statement:
A parent who is ordered removed may request that his or her minor child accompany them. If the parent chooses to have his or her child accompany him or her, ICE accommodates, to the extent practicable, the parent's efforts to make provisions for their children.
Romper's request for comment from DHS regarding how the new order plans to reunite families was not immediately returned.
With President Trump's new executive order to "keep families together" in place, according to CNN, what will this mean for the families who are separated currently? It's hard to say; as New York Magazine reported, there's currently "no plan to reunite the children taken into government custody with their detained parents." According to CNN, Trump announced on Wednesday that the executive order he signed would detain families together, unless there might be a fear for the child's welfare.
Trump's executive order might be a step in the right direction, but whether or not all of the thousands of children will be reunited with their families is still warrants concern and conversation.