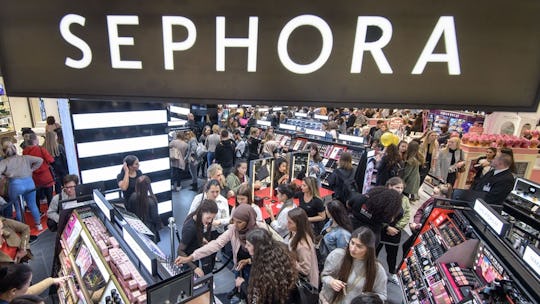 Thomas Lohnes/Getty Images Entertainment/Getty Images
Sephora's VIB Sale Is Starting Today, So Say Goodbye To Your Bank Account
I hope everyone has been saving up, because we're officially back into Sephora sale season. It's holiday bonus season for Sephora's VIB club, and it will be lasting for two weekends this year. The cosmetics-loving public will be flying on to Sephora's website and into their stores to take advantage of their discount, by snatching up coveted palettes, luxurious shampoos, and trendy nail color. Sephora's VIB sale starts today and we're all ready to spend.
Fashion insider and influencer TRENDMOOD broke the news on Instagram on October 17, and according to them, the sale will happen over two weekends: October 26 through October 29; and November 2 through November 5. The first weekend is dedicated to those Sephora Beauty Insiders who have reached the coveted "Rouge" status, meaning that they've spent at least $1000 dollars this year at Sephora. The next weekend will be open to everyone else, by using the code ROUGEBONUS, which will garner you 20 percent off.
I don't know about you, but for some of the products I use, 20 percent off could be a serious chunk of change. Being an old millennial, I've already started using all the potions and lotions to fight back the age beast, and Sephora is constantly luring me in to get more.
There are a ton of new products out right now that I'm dying to try. Their new holiday sets for this year are absolutely lust-worthy. The product I'm drooling over currently, is Tarte's new palette, "Pineapple of My Eye," which, according to Sephora, includes their "best-selling eyeshadow, liner, mascara, cheek, and lip formulas in all-new shades." On top of that amazingness, it has an "Amazonian Clay Eyeshadow palette with 24 exclusive, new shades in a mix of matte and metallic finishes." For all of that, it's only $59... and with 20 percent off? Count me in.
Because Sephora's VIB sale starts today, I can finally get my hands on a new GHD flat iron. It retails for $250, so I've resisted buying because it seemed way too pricey for a hair tool. But my hair is wild and unmanageable, coming out from my head in a riotous halo of curls and frizz. It takes three prayers, five pounds of product, and a tiny miracle to fix it every day.
I'm pretty pumped that I've been such a loyal Sephora shopper for all these years, because I usually get to shop early for all of these sales, and maybe you will too.
This is also the perfect time to stock up on holiday gifts and birthday presents for next year. I love giving makeup palettes, rich lotions, and boar bristle hair brushes as gifts, and they're always well-received. The trick is to know your audience. You're not going to buy the woman with curly hair who never straightens it a brush, just like you wouldn't buy anti-aging serum for your mom...it's kind of rude. However, some of my friends are just like me, and they're a tad bit obsessed with all things anti-aging, masks, and scrubs. They'd be pumped if I made them a basket of paper and peel-off masks.
As for me, let's just say I have a list, and my credit card is burning a hole in my wallet. I can practically smell the perfume aisle already. I have a feeling that if you're not VIB Rouge before this sale began, with all the amazing deals and new products available you just might hit the mark by the November 5. Between my microneedler, flat iron, and Tarte's newest beauty set, I'll more than hit my number.