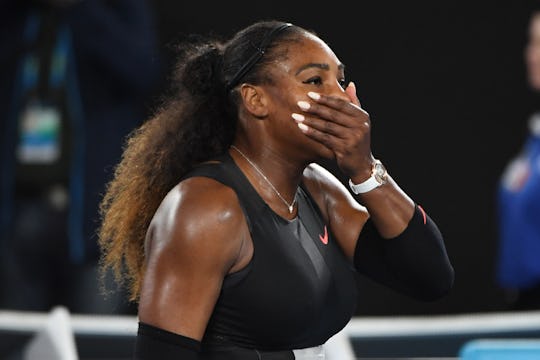 WILLIAM WEST/AFP/Getty Images
Serena Williams' Baby Girl's Instagram Will Make Your Ovaries Hurt
Some people just have an internal sense of what works on social media. Call it selfie-awareness (trademark me) if you will, but there are those of us who know how to kill it online, and others who stagnate with, like, five followers on Instagram, all of whom are blood-related. Alexis Olympia Ohanian Jr. will not have this problem. At just two weeks old, Serena Williams' daughter has an Instagram account, and it's already the best part of my day.
The tennis queen and her fiance, Reddit co-founder Alexis Ohanian, welcomed daughter Alexis Olympia on Sept. 1. It's what we've all been waiting to happen since Williams announced her pregnancy on Snapchat, which the 23-time Grand Slam winner reportedly did accidentally, and fans couldn't have been more excited. It was like, the Carter twins and the Clooney twins all rolled into one. Because they obviously love their fans and know what they want, Williams and Ohanian released a video to Youtube on Wednesday, little more than a week after young Alexis Olympia's birth. In the video, they shared intimate moments the couple shared throughout their pregnancy, ending with a note about their baby:
Alexis Olympia Ohanian Jr.
Born: Sept 1, 2017
Weight: 6 lb. 4 oz
Number of grand slam titles: 1
(Williams was pregnant when she won her 23rd Grand Slam title).
Williams also shared a lovely picture of mother and daughter resting on her Instagram page, and already I can tell you... Alexis Olympia has just about the sweetest little cheeks you've ever seen. Be prepared.
Alexis Ohanian, not to be outdone, turned his daughter (and tiny namesake, because these two are clearly looking to continue on the path of trailblazing) into a cartoon on his own Instagram page. And it was adorable.
He captioned the photo:
Welcome, Alexis Olympia Ohanian, Jr., we're so happy to meet you. We made you a video of our adventure together so far (see bio). Our little girl is already mama's perfect sidekick.
As much as fans were loving the single, solitary picture of tiny Alexis Olympia, obviously it was not nearly enough. Thankfully, it doesn't have to be. Alexis Olympia will now be crawling in the footsteps of the legendary social media tiny titan, Asahd Tuck Khaled (worshipped offspring of DJ Khaled). Much like young Asahd, Alexis Olympia now has her own Instagram page. And it's the purest thing you'll see today.
Here she is, wearing a onesie proudly announcing that she is "Smart and strong like Mama." The photo is captioned "Biceps," but it should be captioned, "Please everyone, check out my amazing eyelashes and wispy hair."
In the next photo, she is curled up against someone's arm and "thinking about mommy and daddy."
For now, that's all her 23,100 followers get. But more photos, and possible even videos, are sure to come. If fans are lucky.
For now, Ohanian and Williams are most likely simply trying to get adjusted to being parents. After all, the two have been going through one of those amazing, whirlwind romances Hollywood used to make really fantastic movies about all the time. The two met in Rome in 2015, secretly dating until they got engaged (at the same place in Rome, sigh!) in December 2016. They discovered, much to their surprise, that Williams was expecting Alexis Olympia in January. In May, Williams told Vanity Fair that she was still trying to get a handle on the concept that she would be a mother so soon:
If you would have told me last year in October or November that I would have a baby, not be pregnant but have a baby, I would have thought you were the biggest liar in the world. This is kind of how I am right now. This is happening sooner than later, and it's going by so fast.
And now, here she is, the mother of the latest social media sensation.
Will wonders never cease?