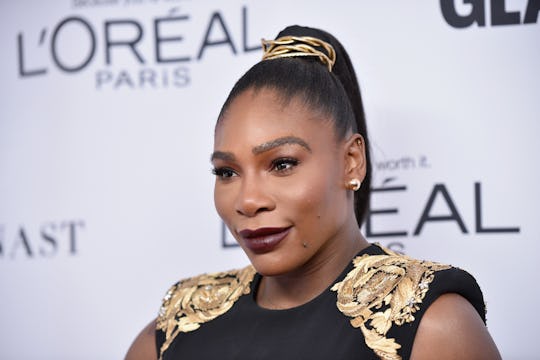 Bryan Bedder/Getty Images Entertainment/Getty Images
Serena Williams Hosted A Private Screening Of 'Black Panther' For Young Girls & It's So Admirable
Serena Williams has proven herself to be a powerful force, not only on the tennis court, where she is considered to be one of the best tennis players of all time, but off the court as well. Her generosity, power, and willingness to help others out is so admirable that people could learn something from it. Case in point — Williams hosted a private screening of Black Panther for young girls and it should be noted. This gesture is not only super kind, but could inspire young girls for days to come.
Going to see a movie in a movie theater is expensive and not everyone gets the privilege of being able to see them, which is where the generosity of celebrities like Williams comes in. Not everyone can rent a movie theater to host a private screening, but Williams can do that — and thats exactly what she did on Thursday evening, according to People. Both Williams and her husband, Reddit co-founder Alexis Ohanian surprised a group of young girls from the group Black Girls Code when they took them to a screening of Black Panther, just for them. Black Girls Code, according to People, is an organization that "provides technology education to African-American girls, encouraging them to learn to code."
Williams posted a super adorable photo of the group of girls looking so incredibly excited to have seen the movie and be in the presence of Williams (I mean, you would be excited too). "Last night we surprised a group of girls from Black Girls Code to watch Black Panther with me in a private screening," Williams captioned the photo.
Ohanian was able to get the moment that Williams surprised the girls on camera and their reactions don't disappoint. Williams' speech that she gave to the girls before the screening is just as inspiring and kind as her actions. Williams said in the video:
I'm glad you guys could make it out. Obviously this is a huge moment for us and for you know, black people. We've never had a super hero movie. We're so super excited for this. I feel like I waited my whole life for this. We're happy to work with Black Girls Code to bring you guys out and enjoy this amazing movie.
Although the girls were there to watch a movie about a super hero, in a tweet, Ohanian compared Williams a real-life super hero — and she probably was for those girls when she hosted the screening.
Williams is just one of many celebrities who are trying to get black children to see the film. Actress Octavia Spencer was the first celebrity to suggest that people should do this, according to the Washington Post, after Spencer tweeted that she was going to "buy out a theater in an underserved community" to ensure that everyone could "see themselves as a super hero." In the days since then, other celebrities and strangers have followed suit — according to Washington Post, over 200 grassroots campaigns for kids to see the film have popped up because of this call to action.
Black Panther is a superhero movie at its core with the action to show for it, according to Variety. But the movie still teaches important lessons, according to Rolling Out, including the lesson that when men and women work together, they can accomplish amazing things. This is something that these young children can really benefit from learning by watching the film. At the end of the day, Black Panther is a movement, according to CNN, and by letting black kids see it through these private screenings like the one Williams hosted, they can feel more represented. However, parents should note that the movie is rated PG-13 for some violent scenes (it is a superhero movie, after all). So although people are encouraging kids to see it, some parents might not be OK with their kids being exposed to that.
By hosting the screening, Williams proved that she is a force to be reckoned with when it comes to inspiring kids on the tennis court and in real life.