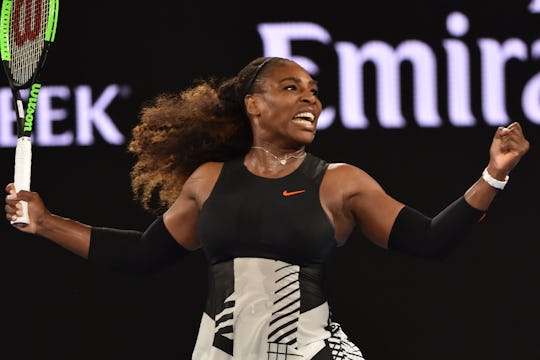 PAUL CROCK/AFP/Getty Images
Serena Williams Perfectly Explained What New Motherhood Feels Like In This One Tweet
In most ways, Serena Williams is completely unrelatable. She's a tennis goddess who won the Australian Open while she was pregnant. She's funny, gorgeous, and she's friends with Beyoncé. But for all her glamour and celebrity, Serena Williams is every new mom in a tweet she posted not long after the birth of her daughter. Motherhood has the potential to bowl over everyone, whether they're millionaire sports legends or not. And so after Williams' tweet, people have never related to her more.
"It's very weird for me to believe I have a child... a KID. I'm a mom. A real MOM," Williams wrote in a Monday morning tweet, just a little over two weeks after giving birth to daughter Alexis Olympia Ohanian Jr. on Sept 1.
Williams has done a lot of unbelievable things over the course of her life. The 35-year-old has been a champion at Wimbledon seven times, and volleyed her way to the top six times at the US Open. She's been named the number one tennis player in the world, and Sports Illustrated dubbed her the "Best Female Athlete of the Decade." But sometimes, even if you've done a bunch of badass things, it's almost hardest to wrap your head around the fact that you grew another human being inside your body. And after that, you then brought it into the world, where you now get the immense honor (and anxiety-producing responsibility) of shaping it into a healthy, functioning adult while loving it like none other.
No wonder Williams' tweet struck such a chord.
After she posted it, a bunch of parents chimed in with their agreement, sharing their own experiences of that strange and wonderful "I'm a parent!" disbelief.
And Williams isn't the only one in the family feeling a little awestruck by new parenthood. Her fiancé, Reddit co-founder Alexis Ohanian (who, perhaps, we need to start calling Alexis Ohanian Sr. now that he has a daughter named after him!) posted his own bit of social media where he gushed over how his daughter had changed his life. Like Williams, Ohanian isn't exactly shabby on the accomplishment front, but he was also amazed at how parenthood could change everything, writing in an Instagram post:
Dad life is the greatest. Entrepreneurship is all-consuming, it's sleepless, we call our startups our "babies,'" we are ridiculously proud of them, and we pour all of ourselves into them — but she is already all that and more, she is my legacy.
Williams and Ohanian documented much of their journey to new parenthood online, starting when Williams accidentally revealed the news on Snapchat, continuing with some loopy and hilarious pregnancy videos, and culminating in a super-adorable video the duo made to welcome Alexis Jr. into the world, and introduce her to their many fans.
Williams' tweet may have captured the feelings of every new mom, but there's another way that she's totally relatable right now. She may be in love with her child — and in a constant state of disbelief that she's now the mother of a newborn — but she's also interested in finding balance in her life. While she's the queen of celebrating her baby, she also doesn't want to give up her tennis career.
As a recent Vogue profile highlighted, Williams hadn't planned on becoming pregnant at the height of her tennis career, and she doesn't plan on stopping something that has brought so much passion to her life. She told Vogue writer Rob Haskell:
It's hard to figure out what the end of your tennis career should look like. I used to think I'd want to retire when I have kids, but no. I'm definitely coming back. Walking out there and hearing the crowd, it may seem like nothing. But there's no better feeling in the world... If anything, this pregnancy has given me a new power.
Williams definitely has a lot of things going on right now. But it's certainly nice to know that even one of the most legendary women in the world can be stunned by the miracle of life — just like everyone else.
Watch Romper's new video series, Romper's Doula Diaries:
Check out the entire Romper's Doula Diaries series and other videos on Facebook and the Bustle app across Apple TV, Roku, and Amazon Fire TV.