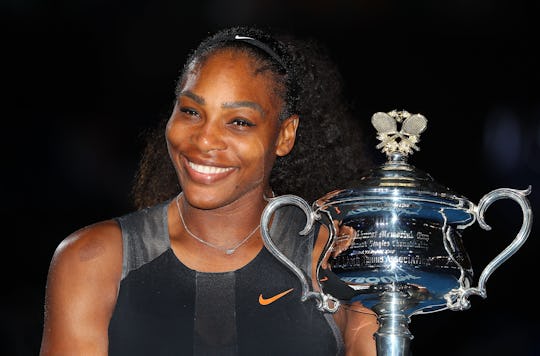 Scott Barbour/Getty Images Sport/Getty Images
Serena Williams Is Pregnant With Her First Child
Tennis great Serena Williams has been a busy woman these past few months. She got engaged to Reddit co-founder Alexis Ohanian back in December 2016, and now it looks as though she has even more great news. Serena Williams is pregnant, and she shared a great selfie on Snapchat to announce the exciting news.
According to Sports Illustrated, Williams simply captioned the photo of her baby bump "20 weeks." No photo shoot, no wreath of flowers (and don't worry, I would never throw any shade at Queen Bey). Just a quiet announcement on Wednesday to share her impending joy. Williams hasn't been back on the tennis courts since March, when she won the Australian Open against sister Venus Williams. According to Williams' announcement, she would have been 11 weeks pregnant at the time she won the Open. Incredible. She reportedly injured her knee soon after, and had to withdraw from Indian Wells. The 35-year-old has been keeping a low profile in recent weeks, and now it seems fans might know why. She was busy growing a new human inside her, and perhaps not quite ready to share the news with the world. This new addition will be the first baby for both Williams and 33-year-old Ohanian.
Romper reached out to reps for Williams and is awaiting a reply.
It's been quite the wild roller coaster for Williams since she and Ohanion got engaged in December. People reported that Williams shared the incredibly sweet, romantic proposal with a poem on Reddit (of course):
"I came home. A little late. Someone had a bag packed for me. And a carriage waited. Destination: Rome. To escort me to my very own 'charming.' Back to where our stars first collided. And now it was full circle. At the same table we first met by chance. But by choice. Down on knee. He said 4 words. And I said yes.
Ohanion, clearly a true romantic, then cross-posted Williams' poem on Facebook, adding only:
She said yes.
As excited as everyone most certainly is for Williams and Ohanian, I am most excited for their baby. Because Williams is sure to be the fiercest of moms. Not only did she win the Australian Open during what is arguably the pukiest trimester of a woman's pregnancy (the first), she also once chased a mugger who allegedly tried to steal her phone.
In 2015, she was eating at Mission Chinese in San Francisco, and some foolish person tried to steal from her. But, as Williams recounted on Facebook, she was too fast for him. She wrote of her experience (where she was, naturally, the winner of everything):
Just because you are a lady don't be afraid to step up to any challenge and not be a victim but a hero!
With a mom who is willing to chase down muggers, the world is clearly going to be this kid's oyster.