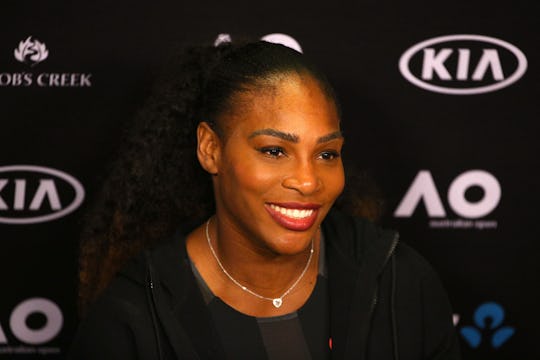 Michael Dodge/Getty Images Sport/Getty Images
Serena Williams' Latest Pregnancy Update Will Crack You Up
Ever since Serena Williams accidentally revealed her first pregnancy on Snapchat, she has entertained fans with countless relatable mom-to-be updates. From hitting up Reddit for hospital bag advice (shoutout to Williams' fiancé and Reddit founder, Alexis Ohanian), to casually baring her baby bump on social media, Williams has been incredibly down-to-earth throughout her pregnancy. Now that the pregnancy is drawing to a close, Williams' musings on being pregnant have been hysterical. In fact, this latest Serena Williams' latest pregnancy update is hilariously real.
Anyone who is or has been pregnant knows that pregnancy is synonymous with body changes, including puffiness. In a pregnant person's last trimester, "slowed blood circulation and holding onto fluid are to blame for swelling in the legs, ankles, feet, hands, and face," according to Family Doctor. Although puffiness isn't necessarily an ideal look, it can be a comedic situation if you're not in a lot of pain.
On Sunday afternoon, Williams addressed her last trimester swelling with a priceless tweet. Williams wrote, according to the Bleacher Report:
It's official. I no longer have ankles.
OK, raise your hand if you can relate to this tweet. Disappearing ankles is an all too real phenomenon when you're pregnant, right?
Fortunately, Twitter had some amazing responses to Williams' non-existent ankles:
Yep, it's safe to say Williams is not alone in this situation.
As for when Williams will get some relief in the ankles department, she'll likely give birth in late August or early September. Although Williams hasn't learned the baby's sex (she wants to keep it a surprise), she's super excited to have either gender. In fact, Williams is just thrilled to be pregnant in general, especially since she didn't expect to be a mom at this stage in her life.
Williams said, according to Vanity Fair:
If you would have told me last year in October or November that I would have a baby, not be pregnant but have a baby, I would have thought you were the biggest liar in the world. This is kind of how I am right now. This is happening sooner than later, and it's going by so fast.
Well, I think a lot of Williams' fans can agree that this pregnancy is going by "fast." Doesn't it seem like just yesterday that Williams confirmed her pregnancy? Time can move so quickly when you're looking forward to something.
Although it's unlikely that fans will hear more funny pregnancy updates from Williams now that she's close to her due date, they can look forward to her parenting anecdotes. Based on Williams' down-to-earth approach to her pregnancy, there's an excellent chance that she will be just as real and hilarious post-baby.