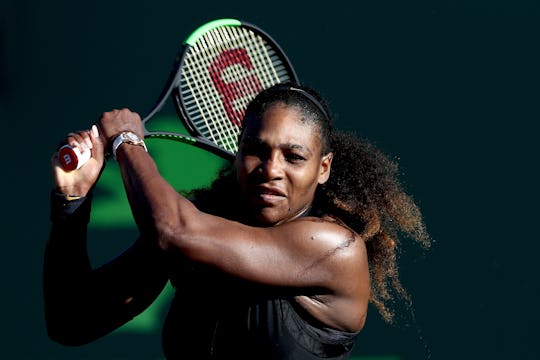 Matthew Stockman/Getty Images Sport/Getty Images
Becoming A Mom Hurt Serena Williams' Tennis Career & That's Infuriating
Serena Williams might be loving life as mom to her infant daughter, Alexis Olympia, but having a baby while literally at the top of her game has meant the tennis star has had to grapple with some very real career challenges. For one, there was the physical recovery (made even more difficult as a result of Williams' harrowing birth experience), but the Women's Tennis Association's lack of maternity leave policies has also had a big impact on her competition. Despite being number one before giving birth, Serena Williams lost her ranking after having a baby, and it's reignited an important debate about that impact of motherhood on the careers of female athletes.
On Wednesday, Williams was defeated in the first round of the Miami Open by 20-year-old Naomi Osaka, according to The New York Times. But the match-up was one that normally would have been expected to take place much later in the tournament due to the tour's seeding rules, which assign tournament spots according to ranking. Had her standing been protected during her time off, Williams' would have ranked 22nd in the Miami Open, according to CNN, which would have ensured her a seed (a kind of preliminary ranking given to top players that makes it less likely for them to be eliminated in early rounds). But since the WTA does not have a policy protecting a player's seeding while they are off due to pregnancy, it means Williams returned to competition at the bottom of the heap.
That may have worked out quite nicely for Osaka, who spoke to reporters after the game about how much she admired Williams, and how great it was to have the opportunity to play against her (Osaka said her tennis mantra is literally "what would Serena do?"). But for Williams, it had to be frustrating. Even though her 2017 Australian Open win earned her the WTA's top ranking spot (lets also note she dominated the Open despite also being newly pregnant), the fact that she missed the bulk of the last tennis season meant her ranking fell to 491, according to The New York Times, leaving her unseeded at the Miami Open. And the loss itself also meant that Williams just earned her "earliest-ever elimination from the tournament," according to Vogue.
Unsurprisingly, the outcome of Wednesday's match seemed to hit Williams hard: the 23-time Grand Slam singles champion skipped her mandatory post-game press conference, which, according to The New York Times is highly uncommon, and could earn Williams a fine. But it also can't be easy for her to be facing such a difficult return to the sport she has dominated for so long, especially after leaving it on such a high note.
Tennis losses aside, it's been a hard six months for Williams: her baby was born in September via emergency C-section, and following the delivery, she developed a potentially-deadly pulmonary embolism. She also experienced complications from the C-section itself — her incision literally popped open, and doctors discovered a large hematoma in her abdomen, and it meant the normally-totally-badass athlete was unable to get out of bed for an agonizing six weeks. As Williams' husband, Alexis Ohanian, explained in an interview for his wife's Vogue cover story in January, "Consider for a moment that your body is one of the greatest things on this planet, and you're trapped in it."
Williams' difficult physical recovery also meant that she had to delay her scheduled return to tennis: she had to pull out of the 2018 Australian Open, and though she did make her official return to the game at Indian Wells earlier this month, she was ousted in the third round by her sister, Venus Williams, according to CNN (Osaka, however, won her first-ever WTA title at the tournament).
To many, Williams loss illustrates the need for the WTA to recognize players' rights to protection while on maternity leave. Currently, according to BBC News, WTA policy dictates that athletes who return from a long absence are entitled to have a protected ranking, but they aren't allowed to be seeded, regardless of the reason they were away.
But not everyone agrees with that decision. Retired tennis player James Blake argued that Williams deserved to be seeded despite her absence, and told AFP that the WTA should acknowledge that maternity leave is a special circumstance. He said,
For someone who goes on maternity break, they should be protected. These kind of things shouldn't happen. She has won this title so many times that she needs protection. It's not as if she left because of injury and lost her passion for the game. She had a kid, which we should all be celebrating, so when she comes back there should be a grace period where she can still be seeded.
The WTA didn't immediately respond to Romper's request for comment.
As much as the WTA's rule about seeding might currently be making Williams' tennis comeback more challenging, her loss is a pretty clear example of the double-standard that female athletes face when it comes to parenthood. For Williams, motherhood has had a huge impact on her career, both physically, as well as in terms of her ranking. But her male counterparts haven't faced the same kind of struggle: Andy Murray and his wife, Kim Murray, welcomed their second daughter together in November, but fatherhood hasn't seemed to impact his game (in fact, Murray has said that becoming a father actually helped his tennis performance, according to The Telegraph). And despite having two sets of twins, fatherhood hasn't exactly slowed down Roger Federer either — he's currently ranked number one in men's singles tennis.
Obviously it helps that neither men had to deal with the physical experience of pregnancy and childbirth, but they've also been able to benefit from having a bit more freedom: according to The Telegraph, Murray hosted Federer at his annual charity event in Scotland only a few days after Kim gave birth to their daughter in London.
For Williams — or any other female tennis player, for that matter — it seems that the fact that the WTA doesn't currently allow returning players to be seeded only makes their post-pregnancy careers that much harder. And while it makes sense that there should be policies in place for long-term absences, it doesn't make sense that new mothers should essentially be penalized for having children.
In all likelihood, it won't take too long before Williams is once again back to fighting form if that's what she wants — she is an extremely talented and hardworking athlete, after all. But not formally recognizing maternity leave protection means that female athletes face unnecessary barriers, and it definitely seems like an issue that needs to be addressed.