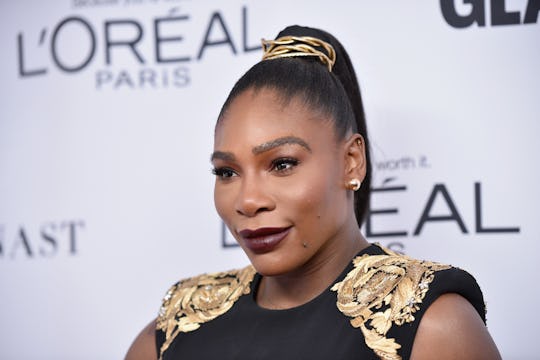 Bryan Bedder/Getty Images Entertainment/Getty Images
Serena Williams Gets Real About Her Complicated Pregnancy, Proving It's Hard For Everyone
Tennis star Serena Williams is so dominant on the court that it's honestly hard to think of anyone who is more physically — and mentally — impressive. Given the fact that she literally won her 23rd Grand Slam singles title while newly pregnant with her daughter, Alexis Olympia Ohanian Jr., it seemed pretty safe to assume that if anyone was going to have the world's easiest pregnancy and delivery, it was probably her. But in a Vogue cover story Wednesday, Serena Williams opened up about her pregnancy complications for the first time, and it highlighted a reality that isn't talked about nearly enough. Even in the United States, pregnancy and childbirth is still risky — and all too often it is actually life-threatening.
2017 was a banner year for Williams, both personally and professionally. In April 2017, she accidentally revealed on Snapchat that she was 20 weeks pregnant with her first child, and while the news alone sent fans into a frenzy, it also indirectly revealed that she was actually already expecting when she won the Australian Open in January. That was a record-breaking win for Williams, who now has the most singles titles in the open era (both among men and women), and in April, she once again became the No. 1 ranked player on the WTA Tour — the eighth time she's done so.
Williams gave birth to her first child on Sept. 1, and afterward she and husband, Reddit co-founder Alexis Ohanian (whom Williams wed in November, according to People) shared a beautiful video on social media that recapped her pregnancy. By all accounts, it looked like a pretty awesome nine months, and Williams confirmed to Vogue that it really was (the mag referred to her pregnancy as "enviably easy"). But Williams then explained that the birth and postpartum period was basically the exact opposite — and honestly, it sounds like a total nightmare.
When Williams and Ohanian first announced their daughter's birth, they revealed that it took about a week before they were able to leave the hospital, and that they'd "had a lot of complications." And now, we know exactly what that meant: Williams told Vogue that she'd had an emergency C-section, and that, while the procedure itself went well, the next day, she started to feel short of breath. The tennis star had a history of blood clots, and felt pretty certain she was experiencing a pulmonary embolism, and sure enough, a CT scan found several small clots in her lungs.
Doctors put Williams on a heparin drip, but the ordeal was far from being over. Not long after, Williams' C-section wound actually popped open, and doctors discovered a large hematoma in her abdomen. After multiple additional surgeries, Williams finally returned home, but she was unable to get out of bed for six weeks. That's an agonizing reality for any new mom, but Ohanian said that it was particularly hard for his wife: "Consider for a moment that your body is one of the greatest things on this planet, and you're trapped in it."
These days, Williams is thankfully on the mend and has settled into new motherhood, but her health issues have still had an impact on her plan to return to tennis. Williams had to pull out of the 2018 Australian Open, which begins Jan. 10, though she told Vogue she still intends to play at Indian Wells in March.
As tough as that must be for the tennis superstar, her disappointment is likely nothing compared to the trauma she endured after her daughter's birth. The fact that Williams has opened up about it is a really big deal, given that it's actually a story far too many mothers can painfully relate to. After all, an estimated 60,000-100,000 Americans die each year due to blood clots (either from pulmonary embolism, or deep vein thrombosis), according to the Centers for Disease Control, and pregnant and postpartum women may be particularly at risk. Pregnancy itself can increase the likelihood of blood clot development, according to the March of Dimes, as does having a C-section, and women are also more likely to suffer from blood clots for the first six weeks after giving birth.
Of course, it's still the case that most new mothers will give birth and recover without issue, and Dr. Jessica Shepherd, assistant professor of clinical obstetrics and gynecology at the University of Illinois College of Medicine told SELF in May that the risk of having a pulmonary embolism is still less than 0.001 percent, so it's not something pregnant woman should be overly concerned about. But at a time when it's easy to assume that dying from childbirth is something that only happened in the past, Williams' story is a reminder that, actually, maternal mortality is still a major issue.
In the United States, an estimated 700 to 900 women die each year from pregnancy or childbirth-related causes, while another 65,000 or so nearly die, according to NPR. In fact, the number of maternal deaths in the United States actually increased from 2000 to 2014, and if that weren't already bad enough, black women are at an even higher risk: according to ProPublica, black mothers are three to four times more likely to die than white mothers.
Part of the reason for the poor maternal health record, according to Dr. Priya Agrawal of the Merck for Mothers maternal health initiative, is that we just don't prioritize maternal health the way we should. Agrawal told Bustle that roughly 40 percent of maternal deaths in the United States are thought to be preventable, yet there is a lack of standard protocols for birthing emergencies in most hospitals. She also noted that most states do not have a formal process to review cases of maternal deaths after they occur, and that there is little support for postpartum women's health, even though a whopping 70 percent of women who die from pregnancy and childbirth complications do so after their baby is actually born (and, like Williams, countless others experience serious close-calls).
So by telling her story, Williams is accomplishing two very important things. For one, it lets all the other mothers with postpartum horror stories know that they aren't alone — if Serena Williams, of all people, could have a terrible birth experience, then it seems it really can happen to anyone (and honestly, as someone who also had a hematoma, an infection, and just a generally terrible time postpartum, that really does feel validating). More importantly though, Williams' story highlights the importance of taking maternal health seriously.
Luckily for Williams, she already knew what it felt like to have blood clots, and she was able to confidently push her doctors to listen to her concerns and act immediately. But too many women don't have the knowledge or awareness about what could go wrong and what it might feel like, or they may not feel able to stand up to doctors and nurses who may initially dismiss their concerns as being harmless. So although Williams' story shouldn't be one that leaves pregnant women lying awake at night in fear of what could happen, it is a reminder that pregnancy and child birth really is risky, and that more needs to be done to keep mothers safe.
Check out Romper's new video series, Romper's Doula Diaries:
Watch full episodes of Romper's Doula Diaries on Facebook Watch.