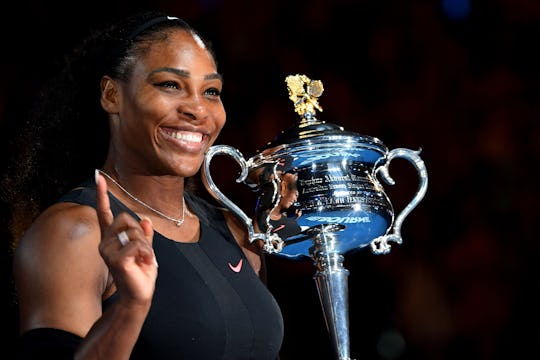 Quinn Rooney/Getty Images Sport/Getty Images
Serena Williams' Tribute To Her Baby Is Incredible
Just days after she announced that she was expecting, Serena Williams wrote a letter to her baby again expressing her joy and excitement about welcoming the little one into the world sometime soon. Not only that, but the tennis champion let her soon-to-be son or daughter know that, despite her undisputed prowess on the court, she's finding even more strength now that she's about to become a mom. It's an Instagram tribute that shows she'll be a powerful force when it comes to raising her child, as well.
Williams, who has won 23 Grand Slam singles titles, announced that she is pregnant Wednesday when she posted a photo of herself standing sideways in a yellow bathing suit and sporting an apparent bump to her Snapchat story. At the time, the caption was simple: "20 weeks." But on Monday, she took to Instagram to elaborate on how it feels now that she's expecting her first child with her fiancé, Reddit cofounder Alexis Ohanian. The two have been engaged since December 2015.
One of the world's most prominent and successful professional athletes, the 35-year-old Williams included the message in the caption of a photo of herself in yet another bathing suit, this time relaxing on a beach and smiling into the camera.
Here's what the had to say to the baby on the way:
My Dearest Baby, You gave me the strength I didn't know I had. You taught me the true meaning of serenity and peace. I can't wait to meet you. I can't wait for you to join the players box next year. But most importantly, I am so happy to share being number one in the world with you.... once again today. On @alexisohanian bday. 😉 from the world's oldest number one to the world's youngest number one. -Your Mommy
Of course, to think about Serena Williams having any more strength than she already does is a little bit mind-boggling, considering that some regard her as one of the greatest tennis players of all time. Also, she was apparently already 11 weeks pregnant when she won the Australian Open against her sister, Venus Williams, on Jan. 28. Obviously, though, Williams is talking about a very different type of strength than the physical one that has defined her career (along with her incredible hard work and talent, of course).
I also love that Williams signed the letter "from the world's oldest number one to the world's youngest number one." It's a timely reference to the Women's Tennis Association having named her No. 1 in the rankings for the eighth time in her her career Monday. And in writing that she can't wait for the baby to join her "in the box" next year, she pretty clearly stated that she plans to return to tennis to dominate, despite the questions that immediately cropped up when she announced her pregnancy.
Now, that's one lucky baby.