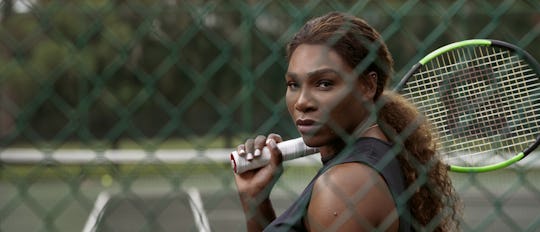 Chase
Serena Williams' Message About Motherhood In This Short Film Will Empower You
Serena Williams has a well-earned reputation for being driven and determined. As a tennis player, as a women's advocate... and now, as a mom. Since giving birth to daughter Alexis Olympia Ohanian Jr. last September, the tennis champion has been incredibly open about what her experience has looked like. How her daughter may have changed her perspective on life, and perhaps more importantly on her other passion: tennis. In a new short film with Chase as part of their sponsorship of the U.S. Open, Serena Williams shared message about motherhood and it's all about finding a way to draw real strength from this new stage of her life. And trust me, she doesn't want you to call it a "comeback."
Williams and her husband, Reddit co-founder Alexis Ohanian, are part of a growing trend of parents who are taking to social media to get super honest about parenting. The joys, the challenges, the expectations they might have had that look very different now than before welcoming their child. With that in mind, according to a press release shared with Romper, Williams is featured in a short film by Chase with an important message:
Serena Williams has always inspired women, and now she's taking pride in the fact that becoming a mother has made her both more vulnerable and stronger.
In the video, Williams can be heard humming with daughter Olympia looking content in her arms. The scene is quiet and peaceful, but in the background the tennis star is reciting the words to LL Cool J's "Mama Said Knock You Out," saying:
Don't call it a comeback/ I've been here for years/ Rocking my peers/ Putting the suckers in fear/ Making the tears rain down like a monsoon
The scenes move back and forth between the tennis court and Olympia's crib. And the message is clear: motherhood isn't a comeback. It's a new stage of life, certainly, but it can bring reserves of strength in some women they might not have known they had before. And in Williams' case, that's a heck of a lot of strength.
"Serena's taking pride in the fact that becoming a mother has made her both more vulnerable and stronger," as explained in the same press release. "And she's showing the world that motherhood isn't something to 'come back' from. It's a part of life that moms in all stages of motherhood draw strength and motivation from. It's simply the start of a new chapter."
It should come as no surprise to Williams' fans that she is willing to show her vulnerability and motivation so powerfully on film. She has never really shied away from being true to herself, and now that she's a mom she seems to have made it something of a mission to be as open as she can with other moms who might be struggling to find their footing. To figure out how to be loving moms and stay true to their own passions. For instance, in a recent interview with TIME, Williams admitted that she is often surprised at how difficult she finds it to leave her daughter. "I didn't think I'd be this attached. It's difficult to leave her," she told TIME.
And yet Williams being the athlete she is, she will power through. Find a way to use the duality of her strength and vulnerability to be both a mother and a champion. An entrepreneur and an advocate. A friend, a wife, a daughter, a sister... becoming a mother can somehow enrich all of those roles. And as the U.S. Open gets under way, she will once again have the chance to prove to the world that she doesn't have to come back from motherhood. Because giving birth isn't a challenge to overcome. It can be that thing that enriches your life.