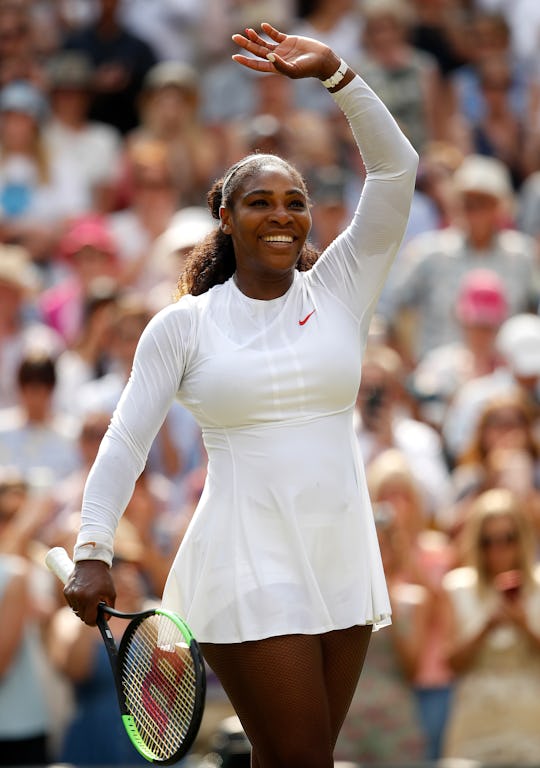 Julian Finney/Getty Images Sport/Getty Images
Serena Williams Shared An Inspiring Message To Moms Following Her Wimbledon Loss
Tennis fans and moms alike watched with baited breath as Serena Williams returned to Wimbledon less than a year after giving birth to her daughter. She may not have come out on top, but that doesn't mean that nothing was achieved. Following her match, William shared a message to moms after her Wimbledon loss and it was a powerful show of solidarity and an inspiration.
In an interview following her loss at Wimbledon, according to CNN, Williams spoke to mothers everywhere and said that she was "playing for them." Her voice quivering and tears in her eyes, she let them know that should they choose to go back to work after having a baby, they can. Williams has led by example as a working mom herself; this is her fourth tournament since giving birth to her daughter Olympia last September, according to CNN. The mom and tennis superstar was just two sets away from winning it all at Wimbledon when she lost to Angelique Kerber, 6-3, 6-3 on Saturday, as Newsday reported.
Despite her loss, Williams is persevering. "It was obviously disappointing but I can't be disappointed, I have so much to look forward to," she said in a post-match interview, as seen in a video shared by Wimbledon. "You know I'm literally just getting started so you know I'm looking forward to it ... I look forward to continuing to be back out here and do what I do best." When her interviewer asked if she was Supermom, Williams replied, "No, I'm just me."
If you think her runner-up's interview was particularly positive, you're right. In a press conference that same day, according to Wimbledon, Williams explained that her priorities as a mother are different than they were before:
Like my priority is my baby. You know, just being with her and doing things with her and spending time with her it's totally my priority ... Like I train in the morning and I spend the rest of the day with her, so I don't get to be with her the full day but a pretty good chunk out of the day.
She went on in the same press conference to speak to other working moms like herself and encourage them to chase their passions. "I just feel like to tell all the mums, like I had such a long struggle to come back and it was really difficult and honestly I feel like if I can do it, they can do it," she said, according to Wimbledon. "I'm just that person, that person, that vessel that's saying 'you can be whatever you want to be if you want to go back to work.'"
This isn't the first time that Williams has acted as a working moms' advocate. She helped to ease the guilt of working moms everywhere with a tweet when she shared that she missed Olympia's first steps while she was training and that she "cried."
This sort of working mom guilt is far from uncommon and her followers responded with an outpouring of love, support, and similar experiences. "I'm saving this, might be one of my favorite tweet/responses," said one of her followers. "As a mom who's missed some firsts, while working, we all need this support and love AND yes, Serena you are the GOAT and we love seeing this mama journey now."
Where does her husband Alexis Ohanian stand when it comes to her returning to work and losing at Wimbledon?
He is just as supportive and loving as fans of the power couple have come to expect. In an emotional Instagram post following her match, he reflected on a surgery that his wife had shortly after delivering their daughter to remove blood clots in her lungs, according to Yahoo!, and stated that Williams is far from finished with her comeback:
Days after our baby girl was born, I kissed my wife goodbye before surgery and neither of us knew if she would be coming back. We just wanted her to survive—10 months later, she's in the #Wimbledon final.
The loss isn't as devastating, according to Ohanian, because Williams has the greatest trophy of all waiting at home for her. A return to Wimbledon after becoming a mother — not to mention making it to the finals — is a success in and of itself. But rest assured, you haven't seen the last of Williams — or any mom who plans to make a comeback.