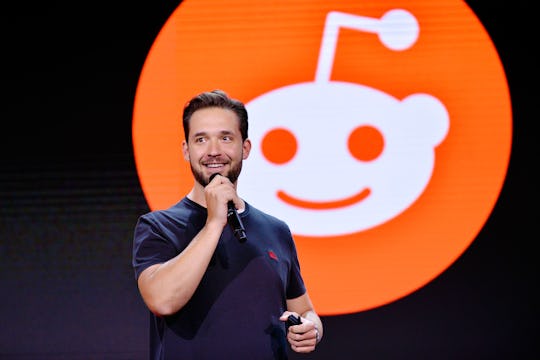 Jerod Harris/Getty Images Entertainment/Getty Images
4 Times Alexis Ohanian Talked About How He Prepared For Fatherhood
Along with being the co-founder of Reddit, Alexis Ohanian has the privilege of being betrothed to tennis pro Serena Williams. Shortly before the two entered the world of parenthood, the new dad took to his website for advice on caring for a newborn and gave numerous interviews about his bundle of joy while his wife was still pregnant. And looking back at what Ohanian has said about becoming a dad, he was focused on preparing for his baby's arrival from the get-go and welcomed nuggets of wisdom offered up by the users of the site he helped create.
Williams reportedly gave birth on Sept. 1, and fans have been dying to know the baby's gender and name — basically anything there is to know about the little guy or gal. But since then, both parents have kept mum about the details, which is totally OK to do and their right, even if it is driving fans crazy. So, until that happy reveal day comes, it's fun to look back at how Ohanian felt about becoming a dad well before Williams went into labor.
Since Williams mistakenly announced her pregnancy on Snapchat, Ohanian was in full-on preparation mode. In case you didn't already know, Reddit is a content site where users can contribute to discussions, share news articles, and ask questions. So in an attempt to learn more about successful child-rearing, Ohanian participated in parenting threads on the site. Here are a few of his favorite tips shared by others on Reddit, which he then shared with the media.
On Bonding With Baby
OK, while this one is a bit sweeter than your average "pack an extra onesie" tip, it would still be filed under practical advice. Ohanian spoke with TODAY about his all-time favorite recommendation from the site and it is actually really cute. He told TODAY:
My favorite (tip) is to sleep with a blanket for like a month before the due date so you get your dad scent all over it. And then wrap the baby in it once it shows up, so they're not just immediately bonding with mom, but also getting a bit of dad.
On Nighttime Wardrobe Choices
While broad insights, such as "cherish the little things" hit home with many of us, a lot can be said about providing specific wisdom. Much of the advice that users shared with their site creator classifies as such. According to a Reddit thread, as The Cut reported, he took one such tip about dressing babies before bed:
Apparently snaps on baby PJs are nonsense. Zippers are far more practical, despite not making that satisfying snap noise when you get baby dressed.
On Taking Advice With A Grain Of Salt
As well-meaning as friends and family members can be, sometimes the flood of parenting advice can be a bit overwhelming. According to The Cut, Ohanian has shared his Reddit tips with one caveat: don't overthink it. He said:
Humans who have been far less equipped than us have been successfully parenting for thousands of years, so I'm trying not to overthink it, but it's easy in today's connected world to get overwhelmed.
On The Importance Of Paternity Leave
Ohanian spoke with CNBC's Squawk Box show about preparing for the coming baby and his plans to take some time off. Dad's are often given the short stick when it comes to taking leave after a new baby, so his comments on the importance of spending time at home make a case for all dads. He told CNBC's Squawk Box:
I'll be taking off for six weeks myself and trying to do the best job possible as a new dad, a first-time dad … We want to break that stereotype that the men work and the women take care of kids. We want to give that opportunity to everyone.
I think it's safe to say that Ohanian has done his research. To be fair, he's not the only one who has turned to the internet for tips and tricks. Williams also went to fans for help with her itchy belly, asking whether it was better to scratch or rub cream.
While Ohanian's quotes aren't the mushy, emotion-filled statements we have come to expect from celebrity parents, it is clear that he already cares deeply for his first child. And even if takes months to see a glimpse of their little one, it's obvious that this kid is pretty lucky.
Check out Romper's new video series, Romper's Doula Diaries: