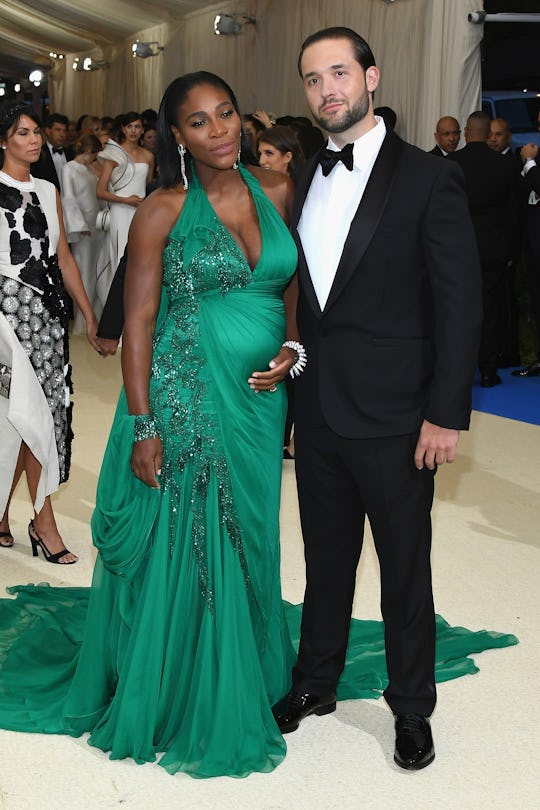 Dia Dipasupil/Getty Images Entertainment/Getty Images
Serena Williams' Bump Was On Display At The Met Gala
Announcing her pregnancy on Snapchat last week was an accident, but Serena Williams' gorgeous display at Monday night's Met Gala showed that she really couldn't have hid the news for much longer. Serena Williams' Met Gala dress showcased her now-famous bump in the most glamorous way possible and, forgive the cliché, she was absolutely glowing.
Her fiancé, Alexis Ohanian, went for a classic black tuxedo for the night, while Williams selected an emerald green halter gown with an asymmetrical ruffle, intricate beading, and a moderately long train. Williams accessorized to the nines with long earrings, a spiky cuff, and a stunning, sparkly ring. Her short hair was slicked back, helping to showcase a full, natural brow and subtle make-up look. She kept it simple — a decision that definitely made an impression amid all of the high-fashion choices present on the Met Gala's red carpet this year.
Though it wasn't Kylie Jenner's mesh moment or Katy Perry's red veil, Williams' dress stood apart in that it fit her perfectly and let her inner beauty shine through. The jewel tone was a timeless choice, so the overall impression of the mom-to-be's outfit was one of pure class. And, hey — having her dapper sweetheart on her arm made it even better, especially considering that this was Williams and Ohanian's first red carpet as an engaged couple. Check out her outfit for yourself below:
See this perfectly executed blush and lipstick juxtaposition? Glowing!
The 35-year-old tennis legend made waves recently after sending out a Snapchat that was meant to be a private message. "20 weeks," the caption read, typed in front of a mirror selfie showcasing Williams in a yellow one-piece bathing suit, bump and all. Fans have since done the math, figuring that, when Williams won her 23rd Grand Slam singles title at the Australian Open this January, she did so at nearly two months pregnant. If Williams didn't seem like a superhuman before, winning a title like that while pregnant is about as boss as it gets.
Now, Williams is taking a break from tennis, enjoying her maternity leave by taking Caribbean vacations with Ohanian and, of course, crushing the red carpet. Fans can get more personal updates from Williams' Instagram, where she's shared gems like this baby bump swimsuit selfie and sweet message, writing:
My Dearest Baby, You gave me the strength I didn't know I had. You taught me the true meaning of serenity and peace. I can't wait to meet you. I can't wait for you to join the players box next year. But most importantly, I am so happy to share being number one in the world with you.... once again today. On @alexisohanian bday. from the world's oldest number one to the world's youngest number one. -Your Mommy
Serena Williams may be known on the court as a tennis star, but on Monday night she definitely served up the glamor.