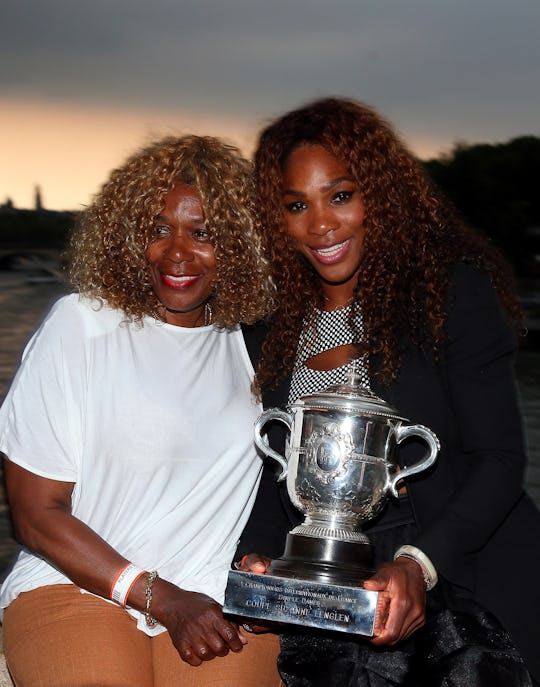 Julian Finney/Getty Images Sport/Getty Images
Serena Williams' Mom Taught Her To Parent With Confidence
There's only so much you can do to prepare yourself for the day you become a parent. There are books to read and classes to take, but the best advice oftentimes comes from our own mothers and fathers — and those who raised one of the most accomplished athletes in the world. As she prepares to welcome her first child, tennis pro Serena Williams revealed how her mom was a parent when she was growing up and the valuable lessons she taught her about being a strong and confident mother.
"It's interesting because my mom has always been so strong for me and she's been the woman that has just literally been unbreakable. Someone that I always look up to and all my sisters looked up to," Williams shared during her during her keynote speech at the BlogHer Conference on Friday, according to E! News. "So in the midst of having a child, it's like all of the sudden you start thinking about the lessons your parents taught you, especially my mom."
She continued, "And you start thinking about, 'Wow, what do I want to raise my kid as?' And when you're young and you're growing up you think your parents may be strict. Then you realize when you're older and you're like, could they have been a little stricter? Or should I have done this more?"
Williams went on to explain how as an expectant mother, she fantasizes about what her child will look and be like as they grow up, and hopes to teach her little one everything her own mother, tennis coach Oracene Price, taught her.
"It's like this is what I want my son or daughter to look like and this is what I want my son or daughter to do," Williams said in her keynote speech. "And so I feel like all those lessons [my mom] taught me about being so strong, of proud of who I am, of being able to look anyone in the face and have confidence and speak with so much confidence is something that I really have been able to embrace and would love to teach my kid that."
News of Williams' first pregnancy came back in April after she mistakenly revealed her growing bump on Snapchat with a photo of herself wearing a yellow bathing suit turned to the side to show off her stomach.
"20 weeks," she captioned the snap, which she quickly deleted from her account. Williams later confirmed that she was indeed pregnant.
While the 36-year-old tennis champ has shared this exciting news as well as the parenting lessons she learned from her own mother, she has yet reveal the sex of the baby or her due date with her followers.
So even though her fans are eager to learn more about her bundle of joy, there's no question that Williams will also be an incredibly strong and confident mom.