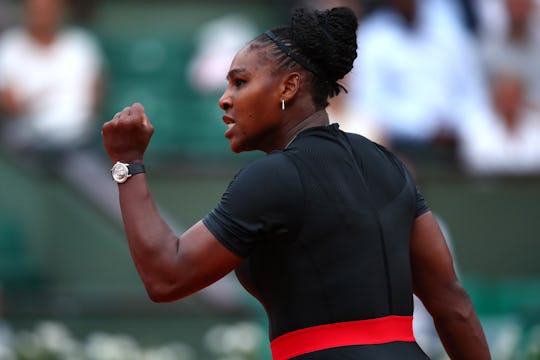 Clive Brunskill/Getty Images Sport/Getty Images
Serena Williams Responded Very Differently Than Most To Her Catsuit Being Banned
Serena Williams always makes headlines when she plays tennis — and at the French Open earlier this year, she made even more than usual for the ultra-fabulous black catsuit she wore during the tournament. However, a French Open official recently announced that the ensemble would be banned from future games. And considering the backlash from fans and other tennis players, Serena Williams' chill response to the catsuit ban is kind of surprising.
Bernard Giudicelli, president of the French Tennis Federation, commented on the topic in a recent interview with Tennis Magazine. "It's a bit late because the collections are already designed but we are going to nonetheless ask the manufacturers to let us know what is coming," Giudicelli told the magazine, according to The Independent. "I believe we have sometimes gone too far. Serena's outfit this year, for example, would no longer be accepted. You have to respect the game and the place."
This weekend, Williams responded to Giudicelli's statement at a United States Open news conference. "The president of the French Federation, he's been really amazing. He's been so easy to talk to," Williams said, according to The Telegraph. "My whole team is basically French, so we have a wonderful relationship. I'm sure we would come to an understanding and everything will be OK. Yeah, so it wouldn't be a big deal. He's a really great guy."
"The Grand Slams have the right to do what they want to do," Williams added, according to The New York Times. "If they know that some things are for health reasons then there's no way that they wouldn't be OK with it."
That being said, the catsuit actually was for health reasons. Earlier this year, Williams opened up to Vogue about the scary experience of giving birth to her daughter, Alexis Olympia Ohanian Jr., last fall. While recovering from delivering via an emergency C-section, Williams had a pulmonary embolism, which is when blood clots travel from the legs to the lungs, causing shortness of breath, according to the Mayo Clinic. Williams has a history with blood clots, so she was able to identify the problem before doctors were. During the recovery period, one way to prevent blood clots from recurring is by wearing compression stockings during the daytime, according to NYU Langone Health.
In an interview during the French Open in May, Williams explained that the suit had compression features. She said, according to the BBC:
I had a lot of problems with [blood clots] - I don't know how many I have had in the past 12 months. It definitely has [a] little functionality to it ... It's a fun suit, but it's also functional so I'm able to play without any problems.
However, Williams no longer needs the catsuit, as she has figured out an alternative. "I've since found other methods," Williams also said at the news conference this weekend, The New York Times reported. "When it comes to fashion, you don't want to be a repeat offender."
When Giudicelli's comments about Williams' catsuit first made headlines, several people of note criticized his shortsightedness. Tennis legend Billie Jean King asserted that "criticizing what she wears to work is where the true disrespect lies."
Andy Roddick, another tennis legend, said Giudicelli's comments were "so dumb and shortsighted it hurts."
Nike, whose logo Williams wore on her catsuit and sneakers during the French Open, also responded to Giudicelli's cricitism. Alongside a photo of Williams, Nike's Twitter account tweeted: "You can take the superhero out of her costume, but you can never take away her superpowers."
Considering Williams said the catsuit made her feel like a "queen from Wakanda" (the fictional country in Marvel's Black Panther), as the BBC noted, Nike's comment hits the nail on the head.