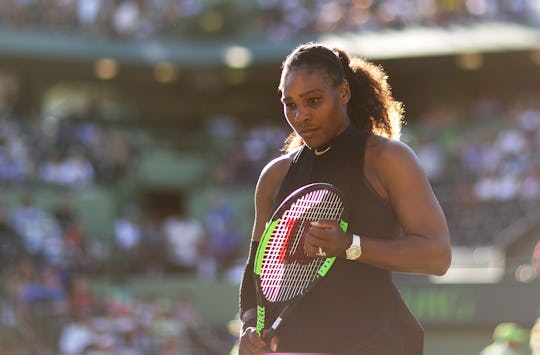 Al Bello/Getty Images Sport/Getty Images
Serena Williams Got Refreshingly Honest About How She Still Struggles With PPD
The name Serena Williams has become synonymous with strength to tennis fans. She is arguably the best tennis player alive on the planet, and projects the impression of a certain kind of unstoppable, immovable force that is hard to ignore. But even Serena Williams has her troubles, especially when it came to welcoming her daughter Alexis Olympia Ohanian Jr. in September 2017 with husband Alexis Ohanian. Not only did she have a difficult time after her daughter was born, in a recent interview with Harper's Bazaar U.K., Williams revealed she still struggles with postpartum depression to this day. Which is so refreshing for other moms to hear who might also be struggling to realize.
The 23-time Grand Slam winner, who actually won her most recent Grand Slam at the Australian Open while pregnant last April if you can believe it, has been characteristically blunt about her experiences as a new mom. She and her now-husband Ohanian were recently engaged when they discovered they were expecting their first child, and Williams' world was suddenly changing at break neck speed, as she told Vanity Fair in August.
Of course, being Serena Williams, she rolled with the changes and figured it out... until she welcomed baby Olympia. After suffering through a harrowing birth experience where she experienced a life-threatening pulmonary embolism, according to Vogue, she found herself at home with a new baby in the throes of postpartum depression.
Williams opened up about her experience back in January in an interview with Vogue about those early days of motherhood, and the darkness and fear that would sometimes overshadow her joy:
Sometimes I get really down and feel like, "Man, I can't do this." It's that same negative attitude I have on the court sometimes. I guess that's just who I am. No one talks about the low moments—the pressure you feel, the incredible letdown every time you hear the baby cry. I've broken down I don't know how many times. Or I'll get angry about the crying, then sad about being angry, and then guilty, like, "Why do I feel so sad when I have a beautiful baby?" The emotions are insane.
While her baby girl is now 8 months old and getting bigger all the time, Williams admits she often feels like she's still in the throes of postpartum depression. She told Harper's Bazaar U.K.:
Honestly, sometimes I think I still have to deal with it.
In fact, she remembers getting upset over a pretty small task recently, according to People:
I think people need to talk about it more because it's almost like the fourth trimester, it's part of the pregnancy. I remember one day, I couldn't find Olympia's bottle and I got so upset I started crying … because I wanted to be perfect for her.
Williams is right; postpartum depression affects at least one out of every nine new moms, according to the Centers for Disease Control and Prevention, and that number could potentially be much higher. Many women suffer through PPD in silence, overwhelmed with guilt that they might not be "doing it" right or that they're somehow at fault for feeling the way they do.
This is why it is so important for high-profile, strong women like Serena Williams to speak up about their own experiences. It can help to minimize the self-imposed stigma of PPD, offering new moms a chance to see that they are most definitely not alone. That it's OK not to feel like everything should be all sunshine and happiness with their baby at home. Because if Serena Williams couldn't somehow will herself to stop dealing with PPD, nobody can.