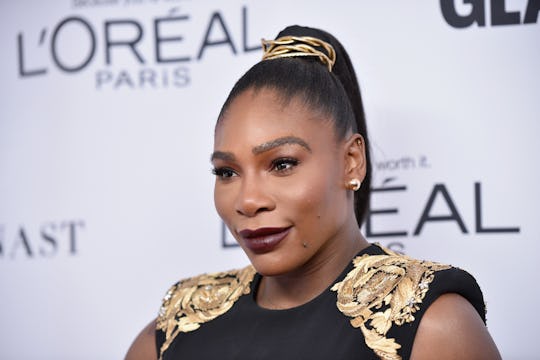 Bryan Bedder/Getty Images Entertainment/Getty Images
Are You Ready To Obsess Over Serena Williams' Royal Wedding Look?
It was hard not to keep all eyes on the royal wedding broadcast early Saturday morning, May 19, as the anticipation for one of the biggest events of the year set in. Given the fact that the bride and groom — Prince Harry, Duke of Sussex, and American actress Meghan Markle, Duchess of Sussex — are super high profile individuals, the world couldn't help but watch closely as celebrity guests arrived. Celebrities like world-renowned tennis player, Serena Williams! Although Markle looked absolutely stunning, Serena Williams' royal wedding look was just as impressive.
The guests make the wedding, don't they? I mean, what would one of the most important days in a couple's life be without their closest friends and family members there to witness it? So of course, Markle's A-list friends had to be in attendance — especially since Markle is a pretty huge celebrity herself now. Williams, escorted by her husband, Alexis Ohanian, was definitely welcomed by royal watchers and fans at home, and her look was absolutely gorgeous. She killed it!
Williams looked absolutely gorgeous in a blush colored dress that was perfect for the occasion, and a matching hat (which is protocol for all official royal occasions), while her husband rocked a three piece suit. Seriously, you have to take a look for yourself to see how great they both looked!
No one doubted that Williams would attend the wedding — especially since she documented herself getting ready on her Instagram story. This involved her doing a pre-wedding face mask, cuddling with her super adorable daughter, Alexis Olympia Ohanian, and going full glam for the very exciting morning. None of this is out of the ordinary, either, because you would go all out in preparation, too, if you scored an invite to one of the most exclusive weddings in the world!
People on Twitter, of course, were going wild for Serena's look.
Although huge fans of Markle know what kind of relationship she shares with Williams, some people might be wondering how Williams and her husband scored one of the most important wedding invitations around. The answer to that is simple: Markle and Williams have been friends for quite a while, according to USA Today, after they first met in 2014 at a Super Bowl party. From there, their friendship and support for one another grew, with Markle even attending tennis matches in support of her famous friend, according to Hello!. On her former blog, The Tig, Markle detailed what drew her to Williams, as reported by Hello!:
She quickly became the confidant I would text while I was traveling, the friend I would rally around for her tennis matches, and the down-to-earth chick I was able to grab lunch with just a couple of weeks ago in Toronto. We are both the same age, have a penchant for hot sauces, and adore fashion -- but what connects us more than those things is perhaps our belief in exceeding expectations — our endless ambition.
Leading up to the royal wedding, it was unclear whether or not Williams would actually be attending (especially since the guest list for the wedding was kept top secret until the day of). But fans should not have had any doubts about her attendance because of Williams and Markle's friendship.
Still, while playing coy about her attendance, Williams was able to provide some advice for her friend ahead of the big day. During an appearance on Good Morning America, in late April 2017, Williams had one key piece for Markle: to enjoy the moment and her cake. "I didn't get to eat mine at my wedding," Williams said. "We were just having so much fun!"
If that advice wasn't relayed to Markle, Williams can now do it in person, since her appearance at the royal wedding was certainly welcomed.