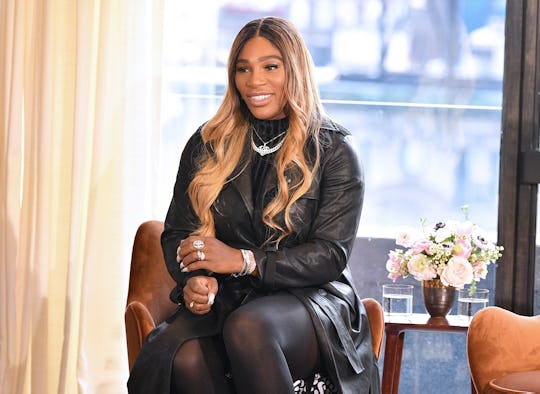 Dia Dipasupil/Getty Images Entertainment/Getty Images
Serena Williams' Male Coach Told Her To Stop Breastfeeding For Her Career
A few months after Serena Williams won the 2017 Australian Open, fans found out the tennis star was secretly pregnant during her victory. That moment proved to the world that Williams could achieve anything — and she has continued to prove that over the past 11 months as a mother to baby Alexis Olympia Ohanian Jr. However, that did not come without sacrifices and learning to balance motherhood and her career. As she disclosed in a new interview, Serena Williams' male coach told her to stop breastfeeding when she returned to training — and she opened up about how the advice made her feel.
The tennis pro discussed the topic in a cover story for TIME, with photos taken by Alessandra Sanguinetti. Williams has worked with tennis coach Patrick Mouratoglou since 2012, according to his website. When Williams got to France for clay-court training, about 8 months after giving birth, Mouratoglou told Williams she should stop breastfeeding. "It's absolutely hard to take from a guy," Williams told TIME. "He's not a woman, he doesn't understand that connection, that the best time of the day for me was when I tried to feed her. I've spent my whole life making everyone happy, just servicing it seems like everyone. And this is something I wanted to do."
Williams also opened up about exactly why she loved nursing her daughter. "You have the power to sustain the life that God gave her," she told TIME. "You have the power to make her happy, to calm her. At any other time in your life, you don't have this magical superpower."
Mouratoglou also spoke with TIME about Williams transition back to tennis. Once baby Olympia was born, Williams started putting family life before tennis. The coach told the magazine:
I felt the decisions were taken through the angle of the family, where before, every decision was taken through the angle of tennis ... This is a big difference. Even if you are Serena, if you want to be successful in tennis, tennis has to be priority No. 1.
Even though Williams did not want to stop breastfeeding her daughter, she acknowledged that breastfeeding was making it more difficult to train. Because she wanted to continue excelling at tennis much as possible, she ultimately took Mouratoglou's advice. "I looked at Olympia, and I was like, 'Listen, Mommy needs to get her body back, so Mommy's going to stop [breastfeeding] now.' We had a really good conversation. We talked it out," she joked.
Williams has expressed her love for Olympia on many occasions. "We're not spending a day apart until she's eighteen," Williams joked to Vogue back in January. "Now that I'm 36 and I look at my baby, I remember that this was also one of my goals when I was little, before tennis took over, when I was still kind of a normal girl who played with dolls."
A few weeks ago, Williams lost a Wimbledon match to Germany's Angelique Kerber, CNN reported. In a post-game interview shared on Wimbledon's Twitter profile, Williams said:
To all the moms out there, you know, I was playing out there for you today and I tried ... I look forward to just continuing to be back out here and do what I do best.
And in a press conference after the match, Williams told reporters that her priorities have shifted to caring for Olympia. She said, according to CNN:
My priority is my baby. You know, just being with her and doing things with her and spending time with her, it's totally my priority.
It's clear that Williams loves Olympia so much — and that she has no intention of letting that get in the way of her kickass tennis career.