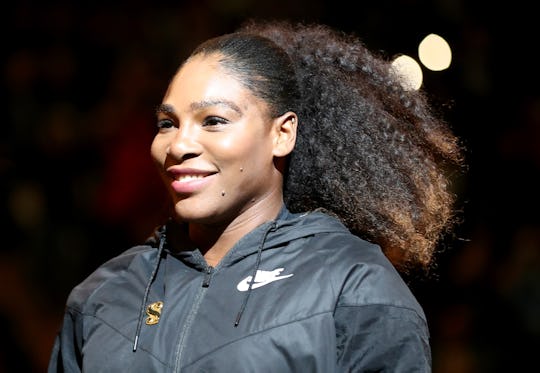 Elsa/Getty Images Sport/Getty Images
Serena Williams Says This Is How Doctors Are Failing Black Women During Childbirth & Pregnancy
Black women are dying during childbirth. Still, in 2018, in the United States. At a time when medical advancements should be protecting women during this most elemental medical procedure, bringing children into the world, women continue to die. Black women more than others. And if you're wondering how this could possibly still happen, one amazing woman has some very strong ideas. According to a recent interview with the BBC, Serena Williams said "doctors aren't listening," and that could be why black women are dying.
The 23-time Grand Slam winner knows a little something about struggling during childbirth; when she gave birth to daughter Alexis Olympia Ohanian Jr. last September. Williams wrote of her life-altering experience in an essay for CNN, where she revealed that she "almost died." She wrote that she was "so grateful" to have access to "such an incredible medical team of doctors and nurses at a hospital with state-of-the-art equipment." She continued, "They knew exactly how to handle this complicated turn of events. If it weren't for their professional care, I wouldn't be here today."
Since giving birth six months ago, Williams spoke to the BBC after a tennis exhibition in New York on Monday about her harrowing experience; Williams suffered a pulmonary embolism before delivering her baby via a C-section. The tennis star admitted that she was one of the fortunate ones since she was able to access excellent health care and she told her doctor that had experienced blood clots before, so was aware she was at a greater risk during labor. Thankfully, her doctor not only listened but took her advice about which tests to run... because Williams knows her body better than anyone else, of course. Not every mother is so fortunate though.
As Williams told the BBC:
I was in a really fortunate situation where I know my body well, and I am who I am, and I told the doctor: "I don't feel right, something's wrong." She immediately listened. She was great. I had a wonderful, wonderful doctor. Unfortunately a lot of African-Americans and black people don't have the same experience that I've had.
She went on to point out that her situation is a far cry from that of many black women across the country, who the Centers for Disease Control and Prevention say are three or four times more likely to die in childbirth than white women. The new mom told the BBC:
Because of what I went through, it would be really difficult if I didn't have the health care that I have ― and to imagine all the other women that do go through that without the same health care, without the same response, it's upsetting. I think there's a lot of pre-judging, absolutely, that definitely goes on. And it needs to be addressed.
Black women have been dying because of childbirth and pregnancy-related complications at a much higher rate for decades, yet little appears to have been done to change the situation. One of the issues being that scientists have struggled to find a specific cause for the disparity. CNN looked at several different factors that could possibly contribute to the higher maternal mortality rates between black women and white women. Doctors and researchers told the media outlet that it could be caused by a lack of access to health care, chronic illnesses, and even the possibility of a higher rate of obesity and high blood pressure. However, Williams thinks that the issue might be something else entirely, or at least in addition to the other factors, as she told the BBC:
Doctors aren't listening to us, just to be quite frank. It might be time for women to get comfortable with having uncomfortable conversations.
She also pointed out that women might want to consider getting "feisty" if they think they aren't being heard properly by their medical practitioner, because it's time to have "conversations that really in 2018 we shouldn't have to have."
What harm could there be in making sure your voice is heard? In speaking out if you feel like there's something wrong, in advocating for your own health care and that of your child? There's literally no down side. This might not be the only answer to reducing maternal mortality rates in black women, but it sure as hell can't hurt. And if Serena Williams advocates making yourself heard... make yourself heard.
Check out Romper's new video series, Bearing The Motherload, where disagreeing parents from different sides of an issue sit down with a mediator and talk about how to support (and not judge) each other's parenting perspectives. New episodes air Mondays on Facebook.