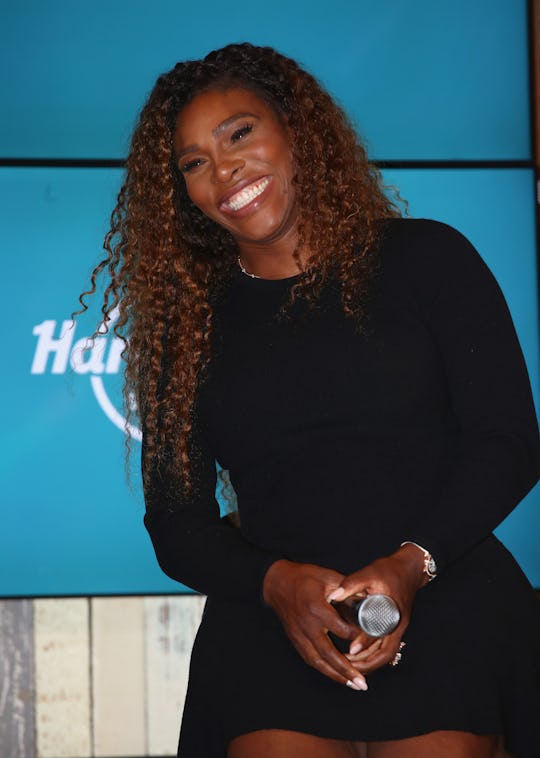 Clive Brunskill/Getty Images Sport/Getty Images
Oh Mon Dieu! This Video Of Serena Williams Speaking French To Baby Olympia Is Très Cute
The world already knows a lot of things about Serena Williams. That she's absolutely in love with her daughter. That she's one of the world's greatest athletes. That she's wife to an internet honcho and buds with England's newest Duchess. But were you aware that she's trilingual and already teaching her baby to be the same? In a new video she shared on her Instagram Story, Williams speaks French to baby Olympia and it's très, très cute.
In the adorable video, Williams is heard speaking in French to little Olympia, who's now 11 months old and wearing a green floral romper and headband. (The athlete also speaks Italian, according to Us Weekly.) As Olympia hangs out by the dog's water bowl, her moms tells her to "wash your hands," in French. Then, the little one reaches happily into her pup's water bowl. "But not with the dog's water!" Williams replies, before adding, "Oh la la!"
OK, mes amis, I get that some people seem to have just been given a little something extra at birth in the "determination" department, but Williams really is an exception. As she told Fader magazine in 2016, she started learning French in her teen years, but decided to become fluent for a future in which she would win the French Open.
In addition, she told Fader that she figured she would be able to communicate better with those from African countries, many of which claim French as an official language, according to Babbel.
Williams is definitely in on to something with her multilingualism, and teaching her baby to be like her. According to a 2009 study from Cornell University, teaching children a second language only has positive benefits, from an increased attention span to increased readiness for school. Additionally, as a different study from 2017 found, teaching your children another language also helps them with their problem-solving skills, according to The Washington Post.
Aside from her amazing language skills, everyone knowns Williams is a dedicated and accomplished athlete. Less than a year after giving birth and subsequently being hospitalized for complications including blood clots, Williams recently found herself back on the tennis court at Wimbledon, as The Independent recounted. And while she didn't win one of tennis' greatest honors this time, she did make it to the finals before being overtaken by Germany's Angelique Kerber, according to NPR. Way to go, mama. It turns out that only one other mother in history has ever grabbed the trophy, with Evonne Goolagong having scored it in 1980 three years after the birth of her child, according to Express.
And while the feminist in me hears that and wants nothing more than for Williams to get back into killer training and sweep next year's Wimbledon for what would be the eighth time, according to Sports Illustrated, the fact is, she also has other priorities now. Asked additionally by The Independent after the loss if her internal fire was still there, Williams didn't hesitate in answering "yeah," but added she didn't know if she'll compete next year.
In addition to being as present as possible for Olympia, the champion is married to Reddit co-founder Alexis Ohanian, whose own busy schedule rivals hers from time to time. The couple tied the knot last year in a gorgeous New Orleans ceremony attended by JAY-Z, Beyoncé, and Kim Kardashian-West, according to E! News, and have shared about being careful to balance their work with family life. Recently, Ohanian recently whisked Williams away to Italy when she was craving Italian food, as Express reported.
Williams has spent her entire life competing and pushing herself to be her best and really deserves the happily-ever-after she's experiencing. If she wants to keep competing, great. If not, she's accomplished more than most people will in a lifetime. She's certainly entitled to hang and be a mom, but it's clear that she's determined to bring her champion "A" game to parenting, as the fact that she already speaks French to her daughter shows.
Whatever Williams does next, I suspect she will surprise and impress her many, many fans. I look forward to it Serena, ma chère.