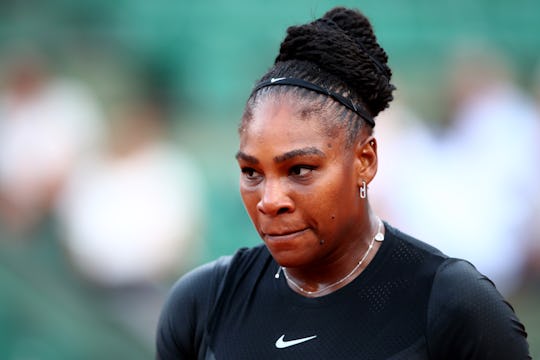 Clive Brunskill/Getty Images Sport/Getty Images
Serena Williams Speaks Out Against Domestic Violence For Her Daughter, & It's Deeply Moving
I doubt anyone out there has ever accused Serena Williams of not speaking her mind. The tennis queen has a history of calling out b.s. whenever she sees it, which has made her a huge inspiration to women on and off the court around the world. But it seems she has her own inspiration helping to guide her these days; her little girl. Serena Williams is speaking out against domestic violence because of her daughter Olympia, she told People in a recent interview, and it's deeply touching.
Williams has decided to team up with Allstate's Purple Purse Foundation, an organization first founded in 2005 to help women caught in domestic and financial violence situations. As the mother of 9-month-old daughter Alexis Olympia Ohanian Jr. with husband Alexis Ohanian Sr., Williams has become even more aware of speaking up for survivors of domestic violence. Especially once she became aware of the sobering numbers; Allstate reports that one out of every four women will experience domestic abuse in their lifetime, and nearly all of those instances will include some form of financial abuse as well. As Williams noted in her interview with People; "Having a daughter means that she's one in four. Hopefully those stats don't go up by the time she's dating and meeting people, but they can if you don't make people aware of it."
Which is exactly why she wanted to get involved with the Purple Purse Initiative in the first place. She realized that she didn't know much about the issue of domestic violence, and wanted to do her part to help end the stigma around discussing it, as she told People:
[Domestic abuse] is a subject that people are not really comfortable talking about, but sometimes talking about the uncomfortable is what we have to do. We're doing that now with Me Too, with Times Up, and I feel like we're making those steps. We want to make this a movement.
This isn't the first time Williams has spoken up about a difficult subject; she's been on the forefront of talking about the gender pay gap, maternal health care for black women in particular, and struggling with postpartum depression to name just a few. After giving birth to Olympia last September, Williams told Harper's Bazaar UK that she was surprised at how emotional she suddenly found herself getting as a new mom:
Honestly, sometimes I think I still have to deal with it. I think people have to talk about it more because it's almost like the fourth trimester, it's part of the pregnancy. I remember one day, I couldn't find Olympia's bottle and I got so upset I started crying … because I wanted to be perfect for her.
That's the thing about Serena Williams; she's not just fierce on the tennis court, she also takes great pride in being fiercely honest and invested. Which is great news for the Purple Purse Foundation, since she has signed on to be the new ambassador. And it's such a worthwhile cause, especially considering how difficult it is for women to climb out from under financial abuse, the most common form of abuse that sees victims denied access to financial resources like bank accounts and job opportunities. And Williams wants to make sure everyone is talking about this issue, including men, as she told Yahoo Lifestyle:
I think the key word is men. Getting both men and women talking about it. We need the support of the men so they aren't becoming abusers. Women as well … to know that when they are abused, [there are] ways they can overcome it and get out of it.
One thing we know about Serena Williams; when she sets her mind to something, s**t gets done. And that's great news for survivors.