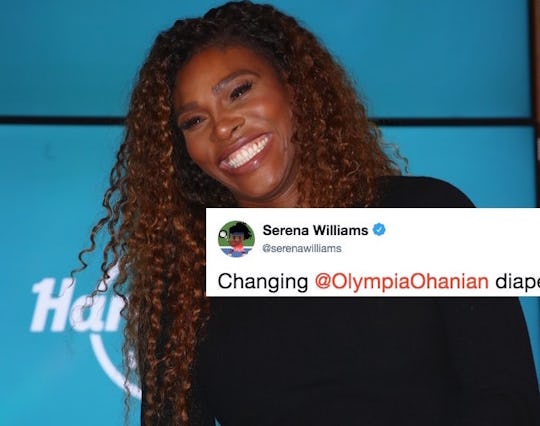 Clive Brunskill/Getty Images Sport/Getty Images
Every Parent Can Relate To Serena Williams' Hilariously Accurate Tweet About Changing Diapers
Parenting a baby requires a certain level of skill that is tough to train for, no matter who you are. Sure, you can go ahead and practice with other people's kids and dolls or what have you, but at the end of the day, it's just so different when you're the person on the hook for the care of an entire human being. Not even one of the best tennis players in the world has an easy time with it, which should bring you some sort of comfort. Over the weekend, Serena Williams tweeted about changing her daughter's diapers and it was so hilariously accurate and offers more proof that nobody is getting out of parenthood without some serious awkward moments.
Williams and her husband, Reddit co-founder Alexis Ohanian, welcomed daughter Alexis Olympia Ohanian Jr. last September. The little girl has already become something of a social media sensation; her Instagram account has more than 320,000 followers. Which feels like a lot for someone who can't really talk or read yet. But she keeps her followers (not to mention her parents) entertained in other ways. Whether it's posing for adorable pictures with her stuffed animals, napping, or just smiling and looking adorable, she's more than entertaining enough to keep people interested.
And apparently, she's been keeping her mom's attention with her diaper-changing antics.
Williams said her little girl is a "mover" and that changing her diaper is so challenging that she needs a "Dramamine afterwards." I think she's kidding, but I mean... yeah. Changing diapers when your baby is a newborn and they just sort of lay there like a lump isn't too bad, but once they start getting active, all bets are off. And other moms were quick to relate to Williams on Twitter.
Kim Kardashian West even got in on the conversation, noting that changing diapers is "like an Indy care race and you have .5 seconds to change the tires." She should know, of course. She's the mother of 4-year-old daughter North, 2-year-old son Saint, and baby girl Chicago, who was born in January. So this girl knows a thing or two about diaper changing.
While most babies tend to be squirmers during diaper change time once they get mobile, it actually makes extra sense that the daughter of an Olympic tennis star might be a mover and a shaker. Especially since her mom says she's already really into watching tennis. While she might not take her daughter to training with her quite yet, Williams told People:
She watches tennis like a hawk. She never takes her eyes off tennis when it's on. It's weird and that makes me a little nervous.
If little Olympia Ohanian is looking to emulate anyone, she couldn't have been any luckier to have a strong, powerful, multi-faceted woman like her mom. Williams has a new HBO documentary out called Being Serena and is about to debut a fashion line on top of being a mom to a 7-month-old baby and, oh yeah, being a world famous tennis star. But it seems her role of mother gives her the most anxiety, as she told HuffPost recently:
Oh, the anxiety is unreal! She's like the bubble boy, I never want her to leave the house. ... It's incredible, the anxiety I feel. There are times I've walked in on her and stuck my finger under her nose to make sure she's breathing. I still do it. I wanted to do it yesterday. It's like, "Serena, she's OK. Stop."
As with everything else Serena Williams puts her mind to, she's obviously going to be amazing at motherhood. But it's sort of comforting to know that she has her struggles, just like the rest of us.
Check out Romper's new video series, Bearing The Motherload, where disagreeing parents from different sides of an issue sit down with a mediator and talk about how to support (and not judge) each other's parenting perspectives. New episodes air Mondays on Facebook.