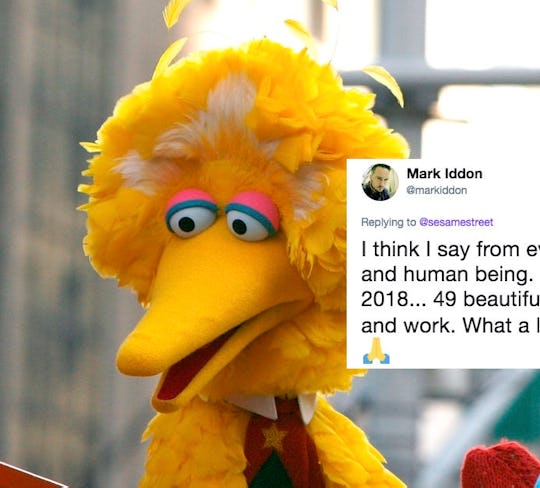 Mike Lawrie/Getty Images Entertainment/Getty Images
'Sesame Street's Original Big Bird Is Retiring After 50 Years & Twitter Is Crying Real Tears
I grew up watching Sesame Street like pretty much everyone else I know. There were plenty of other shows I watched, but there was always something special about Sesame Street. I felt embraced by the show, understood by the characters in a way I was probably too little to understand. I learned things without feeling like I was being beaten over the head with all the learning. Those puppets were my friends, dear and real to me as any other friend. And now that Sesame Street's original Big Bird is retiring after 50 years, I can tell from the reaction on Twitter... I was most certainly not alone. Because everyone is getting super emotional about it, whether that makes sense or not.
Caroll Spinney is the original puppeteer who took on the roles of Big Bird and Oscar the Grouch for the past 50 years, as BuzzFeed reported on Wednesday. He got his start on Sesame Street right out of the gate when the show first premiered in 1969 and has been working there ever since, earning six Emmys, including a Lifetime Achievement award in the balance, according to CNN.
Now, for those of you who are worried that Big Bird and Oscar the Grouch will no longer be on the show, have no fear. The show will go on. As Sesame Street explained in a post on Twitter, "Long-time puppeteer Caroll Spinney has announced that he is stepping down from the roles of Big Bird and Oscar the Grouch." The announcement continued, "Spinney is pleased that his iconic roles will be carried on by puppeteers Matt Vogel and Eric Jacobson."
According to Sesame Workshop, Spinney has been puppeteering since his childhood. Before taking on the role of Big Bird, he was a professional puppeteer working in Las Vegas and Boston throughout the 1950s and 1960s. He met Jim Henson in 1962 at a puppeteer festival, and the two fatefully reconnected when Henson was working on muppets for Sesame Street later that decade, the site noted. It's been a pretty wonderful ride for Spinney, who said in a statement via the Sesame Workshop website:
Before I came to Sesame Street, I didn't feel like what I was doing was very important. Big Bird helped me find my purpose. Even as I step down from my roles, I feel I will always be Big Bird. And even Oscar, once in a while! They have given me great joy, led me to my true calling — and my wonderful wife! — and created a lifetime of memories that I will cherish forever.
If Twitter is any indication of whether or not the work Spinney did was important... it definitely was. To millions of people around the world.
I hope Caroll Spinney takes a moment to read all of the beautiful things people are saying about him today. About how much his work as a puppeteer meant to them. About how much Big Bird and Oscar the Grouch meant to them.
Because if he wants to know whether his legacy might live on, he need look no further than Twitter.