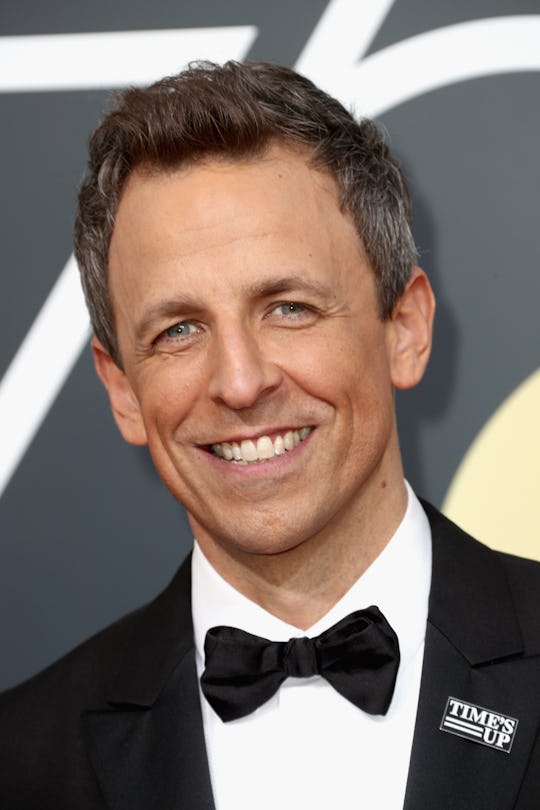 Frederick M. Brown/Getty Images Entertainment/Getty Images
Seth Meyers' Harvey Weinstein Joke At The Golden Globes Was Painfully Accurate
For the first award show of 2018 that came so soon after all of the sexual assault allegations against Harvey Weinstein, it was almost guaranteed that the topic of the former Hollywood power player would rear its ugly head. And Seth Meyers' Harvey Weinstein joke at the Golden Globes came early on in his monologue, but I think we can all agree that it was painfully accurate, if somewhat cringy as well. Meyers' joke began with, "I've heard rumors that he's crazy and difficult to work with," and added that Weinstein will finally return to the Golden Globes in 20 years, when he's "the first person ever booed at the in memorium."
Oof.
Typically at awards shows such as these, there is a segment to pay respects to the fallen show business luminaries of that particular year, so the joke definitely made sense, being that Weinstein is pushing 66, and you couldn't have a Golden Globes for 2018 without plenty of jokes directed at the Hollywood heavy-hitter who'd been accused the previous year of numerous sexual assaults. It also went along nicely with the Time's Up movement of the Golden Globes audience and nominees, who wore black to stand together against sexual assault in the workplace and beyond.
It wasn't all that surprising that Meyers busted out some seriously timely jokes during his Golden Globes monologue, so naturally, Weinstein wasn't going to be spared in the process. It was, however, surprising when the audience then let out some boos after Meyers' joke. It's not clear if that was in response to his joke or in support of it. Either way, I don't think many are going to be openly complaining about any of Meyers' jokes from the Golden Globes.
When Meyers spoke to The Hollywood Reporter in December, he made it clear that instead of political jokes, he was going to address the sexual harassment and assault in Hollywood instead during his monologue to start off the night. "I'm reserving the right to change my mind," he said at the time. "But especially this year with everything that's happened in Hollywood, it seems far more important to have the focus there as opposed to anything that's happening in Washington."
Meyers also said that his wife, who was previously an district attorney in Brooklyn, helped him realize that "For a lot of men, this seems like something that just happened. And for a lot of women, this is not something that just happened. So the best thing any man can do right now is listen and try to learn, because none of us are experts in this thing that we have not experienced." I'd say that using his platform at the host of the 2018 Golden Globes to speak out about the topic was the best thing he could have done, even if that Weinstein joke may have felt a little awkward for some.
Weinstein, it should be noted, has denied allegations over and over. In a statement shared with Romper via Weinstein's lawyer, Lisa Bloom, the movie mogul responded to the allegations and explained that he has reportedly taken a leave of absence from his company. According to the statement, he added:
I came of age in the ['60s] and ['70s], when all the rules about behavior and workplaces were different. That was the culture then. I have since learned it's not an excuse, in the office — or out of it. To anyone. I realized some time ago that I needed to be a better person and my interactions with the people I work with have changed. I appreciate the way I've behaved with colleagues in the past has caused a lot of pain, and I sincerely apologize for it.
I don't think anyone really expected Weinstein to be in attendance at the Golden Globes this year, but a representative for the producer confirmed as much to People magazine, adding that Weinstein is still reportedly in Arizona, seeking treatment, so there was never really any worry about all of these jokes falling on his ears in the same room. But then again, I don't think anyone was particularly concerned with that at this point.
Whether you loved all of Meyers' jokes during the Golden Globes or maybe had a little secondhand cringe as a result of some of them, it was undeniably an entertaining and current monologue that spoke volumes about the long-standing issue of sexual assault and harassment in Hollywood and beyond.
Check out Romper's new video series, Romper's Doula Diaries:
Watch full episodes of Romper's Doula Diaries on Facebook Watch.