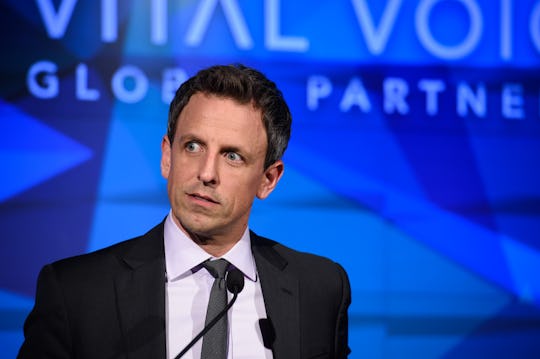 Dave Kotinsky/Getty Images Entertainment/Getty Images
Seth Meyers Issues Forceful Charlottesville Statement, Saying Trump "Is Not A President"
On Monday night, the hosts of late-night condemned President Donald Trump's delayed response to the white supremacist violence that occurred in Charlottesville, Virginia throughout the course of the weekend. From the typically apolitical Jimmy Fallon to Stephen Colbert, late-night collectively slammed Trump for taking more than 48 hours to denounce the KKK and neo-Nazis. Although all of the monologues were necessary and important, Seth Meyers' forceful statement on Charlottesville honed in on a sentiment many frustrated Americans have also expressed. In Meyer's pointed monologue, he rightfully declared that "Trump is not a president," according to Vanity Fair.
Out of all the late-night hosts, Meyers has received the most praise for his unfaltering criticism of Trump. Throughout the past seven months, Meyers has used his "A Closer Look" segments on Late Night with Seth Meyers to take down Trump and his administration on a variety of concerning issues. If you've been watching Meyers' show throughout Trump's presidency, it should come as no surprise that he tore apart Trump's response to Charlottesville, and that he built an airtight case for why Trump is not a president.
In the opening lines of the monologue, Meyers blasted Trump for his seemingly forced second statement, and criticized his initial blaming of "many sides" for the white supremacist violence.
Meyers said, according to USA TODAY:
On many sides. If that choice of words made you feel sick to your stomach, the good news is you're a normal and decent person. The jury is still out on the president, as he initially refused to condemn the white supremacist in this country. Now, he did read a statement at the White House today that finally struck the right tone, but I'm sorry, pencils-down on this subject was Saturday evening. He only gets very partial credit.
After Meyers set the tone, he went in on Trump's long and documented history of racist remarks. Meyers brought receipts, people.
Meyers said, according to The Washington Post:
Some ignored it or played it down when Donald Trump claimed our first black president wasn't born in this country. It was racist and insane, but he was written off as a clown—a bitter little man who didn't know an American could have a name like 'Barack Obama.' And then he called Mexicans rapists during the speech announcing his candidacy; he called Elizabeth Warren Pocahontas. Then he brought Steve Bannon into the White House with him, worked to take away voting rights from black people, and hammered away at the idea that Chicago was a wasteland because of the violent black people living there. And now white supremacists and American Nazis are visible, and energetic, and demonstrative in a way that we have not seen in our lifetimes.
Although Meyers brought up many crucial points in that portion of the monologue, he hit a home run when he declared that Trump is not one bit of a president. Furthermore, Meyers implored Americans to take a stand against hate once and for all.
Donald Trump did not immediately denounce the white supremacist movement when given the chance, and now, whether he knows it or not, many of those people see him as leading that movement. The leader of our country is called a 'president' because he's supposed to preside over our society. His job is to lead, to cajole, to scold, to correct our path, to lift up what is good about us and to absolutely and unequivocally and immediately condemn what is evil in us. And if he does not do that—if he does not preside over our society—then he is not a president. You can stand for a nation, or you can stand for a hateful movement. You can't do both. And if you don't make the right choice, I am confident that the American voter will.
Meyers' strong statement couldn't have come at a better time. Amid all the recent racist violence, America needs a president who will not tolerate white supremacists and who will set the right example for younger generations. America deserves better than Trump, and Meyers' monologue summed this sentiment up perfectly.