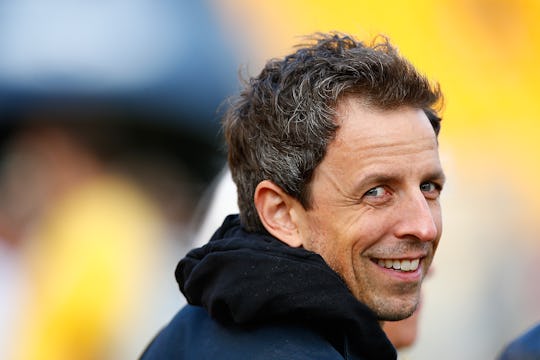 Jared Wickerham/Getty Images Sport/Getty Images
Seth Meyers Shows Off Son's Photo & Gets Honest About Parenting
Who doesn't love Seth Meyers? The Saturday Night Live veteran and host of NBC's Late Night is well known for being a self-effacing, intellectually-minded smart-aleck with a healthy dose of charm. And just when you thought he couldn't get any cuter, Seth Meyers showed off his son's first photo this week and sent us all into cuteness overdrive.
Meyers and his wife, human rights' lawyer Alexi Ashe, welcomed baby Ashe Olsen six weeks ago and Meyers has been all hands on deck ever since. On Thursday, he dropped by the Today show to chat with Kathie Lee Gifford and Hoda Kotb about the joys of parenting and the meaning behind little Ashe's name. "Not after Ashley Olsen, no." Meyers told Gifford and Kotb. (Apparently he's more of a "Mary Kate" kind of guy.) Little baby Ashe's moniker actually comes from his wife's maiden name; Olsen was Meyers' mother's maiden name.
"I can't picture a better way to honor what my wife did than naming him after her," Meyers told People following his son's birth back in late March. "The middle name is Olson, which is my mother's maiden name. To be able to name him after those two women …"
Fatherhood seems to be suiting the host well, too: Meyers actually professed to be a nurturer by nature during his sit-down with Gifford and Kotb this week. "Nurture by Nature was the name of my rap band in high school," the 42 year old comedian joked.
Meyers has been refreshingly honest about his wife's lack of sleep since the baby came home — and he's not all that helpful, apparently, though not for lack of interest. "I haven't been great as far as being an assistant to my wife, in that the baby will wake up a couple times in the middle of the night and then I've been adding a third wake-up because I have night terrors about where the baby is," Meyers admitted on Thursday. "So I've been waking up, grabbing my wife's face, saying, 'I don't know where the baby is.' Then I just go back to sleep."
Here's hoping his wife has a deep well of patience and a good sense of humor (though I'm thinking that would come with the territory, being married to a comedian and all).
The good news is, Meyers says he has taken to diaper duty like a duck to water. "When the baby is crying and you can't communicate with it, then I'm frustrated," he said. "But at least with the diaper, I know that it started dirty and now it's clean."
It's pretty refreshing to hear a dad open up about the challenges he's facing as a new parent, and even more refreshing when he opens up about how tough it can be for a new mom. "It's fantastic," Meyers told the Today hosts. "Your life completely changes, but it changes so much less than the mother's life changes. Mine's pretty similar except there's a baby at home in the morning and at night, but I still go to work."
Looks like little Ashe Olsen Meyers clearly has a father figure worth looking up to.