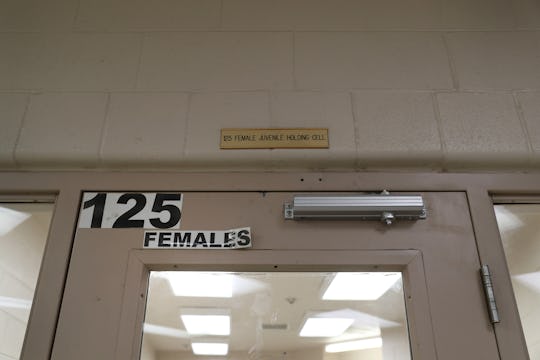 John Moore/Getty Images News/Getty Images
Sexual Assault At Immigrant Detention Centers Rarely Investigated
It's difficult to imagine what it must be like to be in an immigrant detention facility, removed from your home, your family, your life. Living with the crippling uncertainty of what the future might hold for you or even where you might be living. And also apparently living with the very real threat that you may not only be sexually assaulted, but no one will bother investigating. Because it's true: A recent study found that sexual assault claims in immigrant detention facilities are rarely investigated.
The Community Initiatives for Visiting Immigrants in Confinement (CIVIC) recently looked into the number of sexual assault claims that were reported by detainees held under the Immigration and Customs Enforcement (ICE) to the Office of the Inspector General (OIG), and what the organization found was shocking. According to BuzzFeed, despite the OIG having received at least 1,016 complaints of sexual abuse/assault since 2010, only 24 of those complaints were investigated. This amounts to only 2.4 percent of reported sexual assault or abuse claims made by immigration detainees being reported by the OIG. It's also worth noting that this number does not include, according to CIVIC:
402 complaints of "coerced sexual contact", 196 complaints of "sexual harassment", and 380 complaints of "physical or sexual abuse" lodged against ICE.
Immigration detainees are especially vulnerable and in need of protection, as noted by CIVIC program coordinator Rebecca Morton:
The data is particularly disturbing given that rape and sexual assault are known to be highly underreported in immigration detention facilities due to fears of retaliation, social isolation, language barriers, and the knowledge that allegations are not seriously investigated.
According to further reporting by BuzzFeed, there have been complaints of sexual assault and abuse at 76 detention centers in the United States, but the most complaints were reported from these five privately-owned facilities which are owned by GEO Group and CoreCivic:
Jena/Lasalle Detention Facility in Louisiana, Houston Contract Detention Facility in Texas, Northwest Detention Center in Washington, and San Diego Contract Detention Facility and Adelanto Correctional Facility in California.
Romper has reached out to GEO Group and CoreCivic for comment and is awaiting a response.
CIVIC has since lodged a federal complaint with the Office for Civil Rights & Civil Liberties within the Department of Homeland Security on behalf of 26 detainees who have reported allegations of sexual abuse, as well as eight class representatives. One of the eight class representatives is Rosanna Santos, a woman who claimed she was sexually harassed and allegedly threatened by a corrections officer during her stay at York County Jail. Santos told CIVIC that her case was not especially unusual for immigration detainees:
A lot of the girls there had problems like this. Most of them don't even end up complaining or saying anything about it because they're scared of retaliation. Since my complaint, nothing has happened. It is like they want to keep me quiet.
Santos claimed that she reported the officer, who allegedly threatened to sodomize her if she did not do whatever he said, but nothing allegedly happened. CIVIC reported that Santos was placed in solitary confinement for 11 days.
Romper has reached out to York County Jail for comment on the allegations.