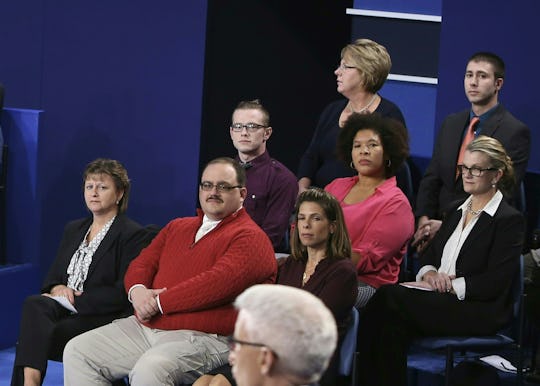 TASOS KATOPODIS/AFP/Getty Images
Sexy Ken Bone Costume Is A Real Thing, But Totally Unavailable
Kenneth Bone has taken over the world. The undecided voter who appeared on stage during the second presidential debate has turned into a meme and become a national media sensation faster than you can say "Electoral College" — and it doesn't look like the Bone madness is stopping any time soon. This meme has gotten so big that a sexy Ken Bone costume is now a real thing, but unfortunately for those hoping to win their aprés-work costume party in a scandalous red Izod crop-top, the official get-up itself is all sold out.
First of all, a little background. What exactly was it that made everyone so interested in Kenneth Bone? Was it his unassuming appearance? Or that now-famous bright red sweater? According to The Washington Post, Bone represents that "little flame of goodness and hope, still burning beside the dark tone of the majority of debate." As The Washington Post puts it in simpler terms, "America needed a hero. Kenneth Bone answered the call."
Bone's appearance at the debate was a much-needed distraction from the current state of disarray in politics. And Bone's ascent into meme status comes at the perfect time, with just two-and-a-half weeks until Halloween. There is simply no better way to say "I am in touch with politics and meme culture" than dressing up as Bone on Oct. 31.
Those interested in dressing up as Bone and looking to take it one step further, by dressing up as sexy Ken Bone — because the regular Ken Bone costume just isn't hot enough — were likely thrilled when popular Halloween costume retailer Yandy debuted its "sexy Ken Bone" costume for sale under the official name "Sexy Undecided Voter" — for the "low" price of $99. It's the perfect costume to tell the world, "I'm here, I'm ready to party, and I'm ready to talk about the future of energy policy of the United States."
The good news: The costume comes complete with a red crop top, white undershirt, blue high waisted pants, glasses, mustache, and microphone — all of the Ken Bone essentials. The bad news? The costume is out of stock in all sizes. According to People, the costume sold out within four hours of its debut.
But if you weren't one of the few to get their hands on the Yandy costume, a sexy Ken Bone costume is actually pretty easy to recreate with a few resources. A thrift shop or department store can provide the crop tops and pants. A Halloween or party store will more than likely have the glasses, mustache, and the microphone — because no Ken Bone costume is complete without the iconic mustache.
If anyone were to stop and ask what your costume is, it doesn't take much explaining either: Tell them that you're one of the most important and influential people in the 2016 election — an undecided voter.
Kenneth Bone has become one of the better things to come out of an election that oftentimes feels like the plot of a horror movie. A sexy or handmade Ken Bone Halloween costume just represents just how unpredictable and strange the 2016 election has been.