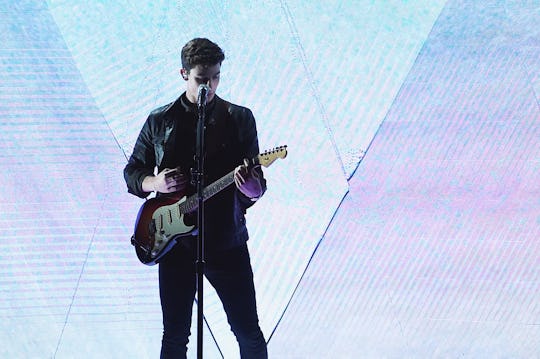 Kevin Winter/Getty Images Entertainment/Getty Images
Shawn Mendes Snubbed At 2017 Grammy Nominations, But This Tweet Proves He's A Good Sport
The 2017 Grammy nominations are officially here and while some favorites snagged nods in major categories (like Adele and Beyonce), other favorites were no where to be seen. Shockingly, Shawn Mendes was snubbed at the 2017 Grammy nominations.
According to Billboard, Mendes was signed in 2014 after his Vine videos gained some serious popularity and has continued to rise as a superstar ever since. His debut album, Handwritten, was number one on the Billboard 200 back in 2015, and as of this article's publication, his most recent album (released in September), Illuminate, is number 37 on the Billboard 200.
Billboard's 2017 Grammy nomination predictions, however, didn't have Mendes scoring a spot in the Best New Artist category. With so many mega-stars hitting the album lists this year, it's been tough competition for Mendes. But that doesn't mean his fans haven't thought he deserved more. Mendes was considered a major contender for one of the sought-after Grammy nominations this morning and several people took to social media to announce their disappointment and offer him their support and encouragement. It may not sound like much, but when you consider that Mendes shot to fame because he had tons of fans following his Vine and watching his every move, it's kind of heartwarming.
Despite how disappointed he may feel, Mendes proved to be a good sport on Twitter, congratulating Chance The Rapper who did score big with a Best New Artist nomination this year.
As his fans said, there's always next year, Mendes. He continues to bust the charts with his talent, so a nomination isn't far out of reach. But his humility and positive interaction with another artist is what makes him so incredible. In a world full of artists going at each other in magazine interviews, writing songs specifically to target another person, and concerts where artists rag on each other and their "friends" in the industry, it's really refreshing to see such a happy, selfless, positive interaction.
Mendes may be showing what a talent he is on the Billboard charts, but he's also showing every day what a great guy he is. His encouragement to Chance The Rapper should be a lesson for every artist — you're all in this together. Just be nice to each other and be excited when your colleague does well.
I hope Mendes doesn't get snubbed again next year, but no matter what, I think he's going to be just fine in this industry.