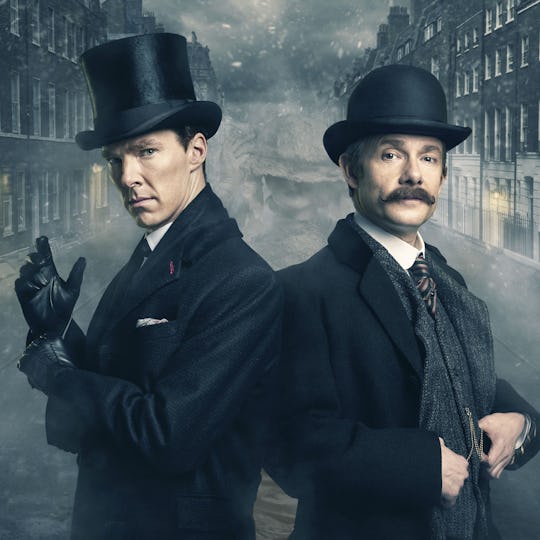 'Sherlock' Special Featured Some Serious Mansplaining, & People Weren't Pleased
What better way to ring in the new year than with Benedict Cumberbatch and a little mystery? The Sherlock holiday special, "The Abominable Bride" aired Jan. 1 to the delight of millions of fans. The 90-minute episode drew 8.4 million viewers, a strong showing considering most of the world was still nursing a hangover. Although it was a long-awaited and highly anticipated event, many viewers ended the special feeling confused, disappointed, and unhappy. And what better way to express their feelings than by taking to Twitter.
First, the timeframe of the episode was, well, odd. Sherlock Holmes (played by Benedict Cumberbatch) was both in the modern world, dreaming he was in the 19th century, and was in the 19th century, dreaming he was in the modern world. Confused? You wouldn't be the first. Numerous fans took to twitter to voice just how lost they were, claiming the writers essentially "overcomplicated" the episode by shifting between two eras.
Along with the complicated nature of the episode itself, many fans had an (arguably even larger) issue with the blatant mansplaining that took place in one particular, and now infamous, scene. Sherlock speaks to a room full of women and, essentially, explains feminism to a bunch of feminists.
The invisible army hovering at our elbow, tending to our homes, raising our children, ignored, patronized, disregarded, not allowed so much as a vote. But an army nonetheless, ready to rise up in the best of causes, to put right an injustice as old as humanity itself. So you see, Watson, this is a war we must lose.
He touches on the suffrage movement - the campaign that eventually lead to women securing the right to vote - and although the scene was clearly written with the best of intentions (I mean, hopefully, right?), the audacious nature of an arguably pompous man explaining the need for women's rights to the very women who don't have those rights was not lost on viewers.
Here are just of the issues people had with "The Abominable Bride."