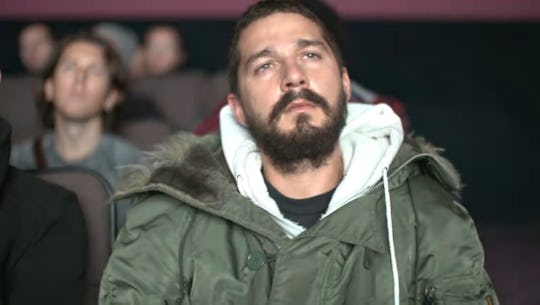 Newhive
Shia LaBeouf's Emotional Reactions To His Personal Movie Marathon Are The Best Thing To Happen To The Internet
As you've probably heard by now if you are a human who reads the Internet, noted performance artist (and actor) Shia LaBeouf has been watching all his movies non-stop in reverse order at Manhattan's Angelika Film Center this week for an event called #ALLMYMOVIES. Fans were welcome to join him at the theater, free of charge, or watch a live stream of the event, which is sure to provide amazing gifs for weeks to come. As I write this, the three-day marathon is nearing its end, and Shia is starting to nod off. It's kind of adorable.
So what happens when the world is invited to stare at an actor like a zoo animal for three days straight? Apparently, your views on him start to change. Some people who previously regarded him as merely a source of entertainment are now starting to realize that he's a real person — like Ariana Bacle, who chronicled what happened when she sat next to LaBeouf for several hours in a write-up for Entertainment Weekly. Meanwhile, others are doubling down on their treatment of him as nothing more than flashing lights on a screen. We've learned what he likes to eat at the movies (pizza, popcorn, coffee, and Sour Patch Kids). And through the many, many facial expressions he's shared with the world this week, we're learning what he really thinks of all his movies. You can talk up Indiana Jones and the Kingdom of the Crystal Skull all you want during a PR tour, but we saw your reaction, Shia. We know.
And now, we can all relive Shia's many moods until the end of time, thanks to the beauty that is Twitter.