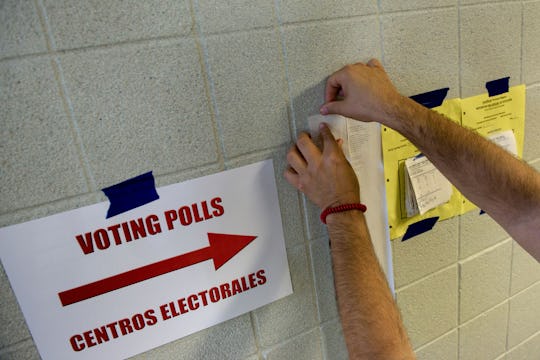 BRENDAN SMIALOWSKI/AFP/Getty Images
Shooting Reported At Azusa, California Polling Station
On Tuesday during Election Day, reports surfaced that an shooting had been reported at Azusa, California polling station, and according to the Los Angeles County Sheriff's Capt. Jeff Scroggin, police were reportedly dealing with at least one suspect who was heavily armed. The Los Angeles Times noted that officials have released few details about the shooting, but what we do know at this time is that the shooting took place after 2 p.m. Pacific time and occurred in a residential neighborhood in the area of Forth Street and Orange Avenue. Speaking with Jerry Willison, an officer with the Azusa Police Department, he said: ""This is a very volatile and critical situation."
In response to the shooting, the Azusa police have urged residents to stay out of the area and have asked everyone in the area to shelter in place. The Los Angeles Times also noted that nearby daycare centers, preschools, and the Azusa Union School District issued a lockdown for Mountain View Elementary schools and Slauson Middle School as well. Those lockdowns were issued around 2:15 PT, the Los Angeles Times notes. According to ABC7.com, four people were injured and were taken to neighboring hospitals.
ABC7.com notes that Memorial Park and Dalton Elementary School, both serving as polling stations for the Nov. 8 elections, were "impacted" by the incident, but it's not clear how many voters were turned away from their voting locations and if the shooting will heavily impact voter turnout.
At present, CNN has confirmed that one of the four victims was killed, according to Fire Inspector Gustavo Medina, after being taken from the scene to an area hospital for treatment. There's been no official word on the three remaining victims involved in the shooting. CNN notes that shots were not fired inside of any singular polling station, but that everyone remained in a lockdown inside of their polling locations as police rushed to the scene. One voter who spoke to CNN following the shooting said that he had heard a "bunch of shots ring out" and that people started to run before officials locked the doors to keep them safe and indoors. According to CNN, the voter said that a "massive shooting is happening and the police have told us to stay indoors. We are currently on lockdown."
A second voter recounted the event to CNN:
At first, I thought it was construction but people came running into the room saying they see a guy with a bulletproof vest and a white shirt. As of right now, they just have us in the voting room and are trying to keep us calm.
Voters in Azusa are encouraged to vote elsewhere as officials piece together the details from the shooting and begin their investigation.