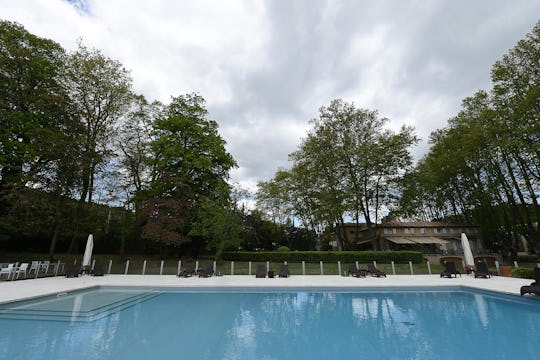 BORIS HORVAT/AFP/Getty Images
Should Pregnant Women Avoid Swimming Pools Because Of Zika This Summer?
One of the toughest aspects of being pregnant is staying cool. I was pregnant with my son in the summer and I remember basically parking myself at the beach or my friend's swimming pool for about a month, just trying not to melt. That was before, of course. Before mosquitoes and standing water became Public Enemy Numer One for expectant moms. Now the question of whether or not pregnant women should avoid swimming pools because of the Zika virus is weighing heavily on many.
Two women from Connecticut were reported to have contracted the Zika virus on Thursday, one of whom is pregnant. The women were each visiting the Dominican Republic and Puerto Rico when they were infected, according to state officials. The Department of Health reports that this brings the number of Zika-related illnesses in Connecticut to six. Earlier in April, a pregnant teen named Sara Mujica from Danbury also contracted the Zika virus while visiting her father in Honduras. She told the Associated Press:
I was in a state of shock, honestly. I didn't really know what to say. I didn't know what to do. I just started getting teary eyed and almost crying. I was just trying to stay strong.
The Zika virus is spread through mosquito bites and through sexual intercourse with a man who has contracted the virus. It is especially dangerous for pregnant women as the virus has been linked to microcephaly (when a baby is born with a small head and brain), as well as the degenerative disease Guillain-Barré syndrome, a sickness of the nervous system that can cause paralysis.
The Center for Disease Control and Prevention recommends pregnant women or women who are trying to become pregnant avoid standing water. The Aedes Aegypti, or "container-breeding mosquito", prefers to lay its eggs in and around standing water, especially water stored in man-made containers (like swimming pools).
Pregnant women should remove all standing water containers in the home like:
Vases
pet water bowls
flowerpot saucers
discarded tires
buckets
pool covers
birdbaths
trash cans, and
rain barrels.
Standing water with organic matter like leaves, debris, and grasses is even more likely to become a breeding ground for mosquitoes, as the matter provides the larvae with food. If a pregnant woman plans on using an outdoor swimming pool this summer, they should make sure the pool is properly chlorinated and that the chemistry has been maintained.
While it might be difficult to avoid standing water this summer (especially if you have other little ones in swimming lessons), taking preventative measures to keep safe should offer expectant mothers peace of mind. And remember, there are always indoor pools, right?