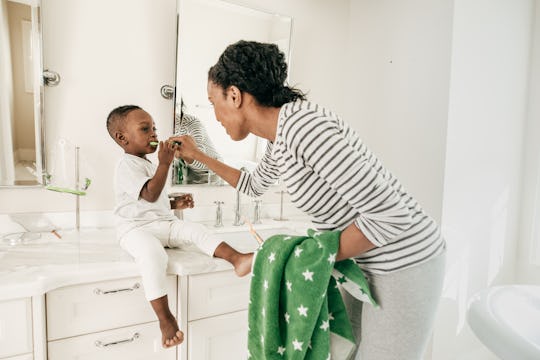 kate_sept2004/E+/Getty Images
Here's What Dental Experts Want You To Know About Fluoride & Toddlers
When it comes to dental care, experts agree that starting early to develop proper oral hygiene habits is key. A variety of products aim to make brushing fun for little ones, but not all are created equal. What you need to know about fluoride and toddlers can make a difference when it comes time to choose from the array of candy-colored and bubblegum-flavored tubes of toothpaste on the market.
"Fluoride is present in some foods and naturally occurs in varying amounts in water sources such as lakes and rivers. It's also added to some oral care products such as toothpastes — which has not been without controversy," Dr. Kami Hoss, CEO and co-founder of The Super Dentists, the largest dental practice in southern California, tells Romper. "Advocates of fluoride refer to 'systemic' benefit of strengthening the tooth enamel when fluoride is taken in from foods, beverages, or dietary supplements. They also refer to the 'topical' benefit of fluoride in toothpastes in strengthening and remineralizing the enamel in the early stages of tooth decay."
While the American Dental Association has long-recognized fluoride as "safe and effective in preventing tooth decay for both children and adults," the mineral can pose a threat of toxicity if too much is ingested. This is why pediatric dentists are often cautious about young children and fluoride consumption. Learning more about fluoride use, the benefits, and the risks is vital for toddler parents.