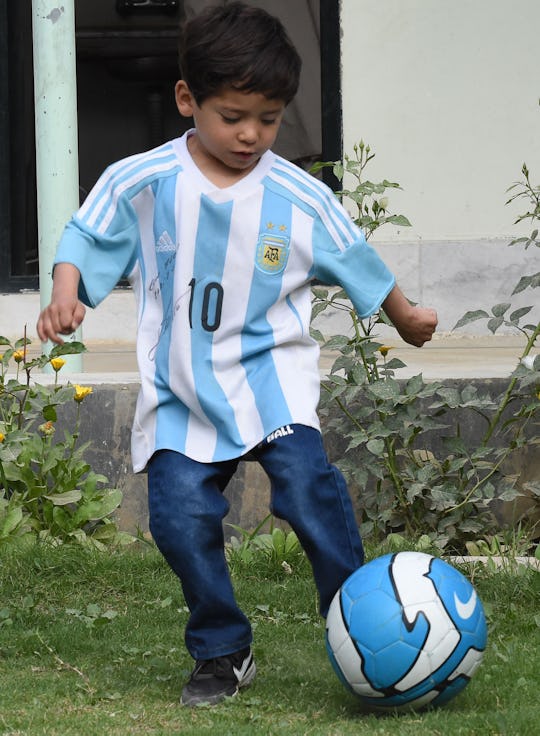 BANARAS KHAN/AFP/Getty Images
Should You Let Your Kid Play Soccer? Injuries Are On The Rise
There is this constant push-pull element of parenting nobody really warns anyone about. On the one hand, parents are forever being berated to encourage their kids to be more active, to turn off that TV, turn off those cell phones, and play outside! On the other hand, nobody wants their kids getting hurt. So the question of whether or not you should let your kid play soccer, especially since soccer-related injuries are sending more kids to the emergency room than ever, can feel a bit more complex than you might expect.
According to a new study, the number of injured soccer players who have visited the emergency room between the ages of seven and 17-years-old has more than doubled since 2014. The study, which is based on 25 years worth of data, also found that the concussion rate grew an alarming 1600 percent in the same period of time. More than 200,000 soccer-related concussions were treated in emergency rooms, about 30 per 10,000 people (which, compared to a previous rate of two concussions per 10,000 people in 1990, is a sizable increase). Dr. Huiyun Xiang, a researcher at the Center for Injury Research and Policy at Nationwide Children's Hospital in Columbus, Ohio and the lead author of the study, told USA Today:
"Concussions can have significant consequences in terms of cognitive function and brain development."
The game of soccer has seen a huge increase in popularity in recent years. According to the United States Youth Soccer Organization, in 1980 just over 810,000 children were playing soccer in organized leagues. By 2014, that number had jumped to over three million.
While Dr. Xiang acknowledges that the surge in soccer-related injuries can be partially traced back to the simple fact that more kids are playing soccer than ever, he told Scientific American:
Both the number and rate of soccer-related injuries increased significantly over the study period. This means that the increase in injuries doesn't just come from more children playing soccer, but that athletes may be getting injured more frequently.
Older children tend to be more susceptible to injury, with 12-year-old kids and over accounting for 73 percent of injuries.
While all of this news might sound fairly dire, don't tear up your child's soccer registration form just yet. The study wasn't able to identify whether or not the injuries happened during practice or games, as the data was only collected from hospitals. Additionally, people are more aware of the danger of concussions and head traumas, which could account for the higher number of cases being brought to the ER.
In reality, children are at a higher risk of getting hurt if they are more active. That's the nature of the beast. And while it's important to talk to your child and your child's coach about safety and precautions when playing sports... sometimes, as parents, we might want to accept that our kids might get hurt. But the benefits of playing sports (empathy, striving for excellence, physical health, camaraderie) still outweigh the negatives, I think.